400L beer fermenter and storage tank for microbreweries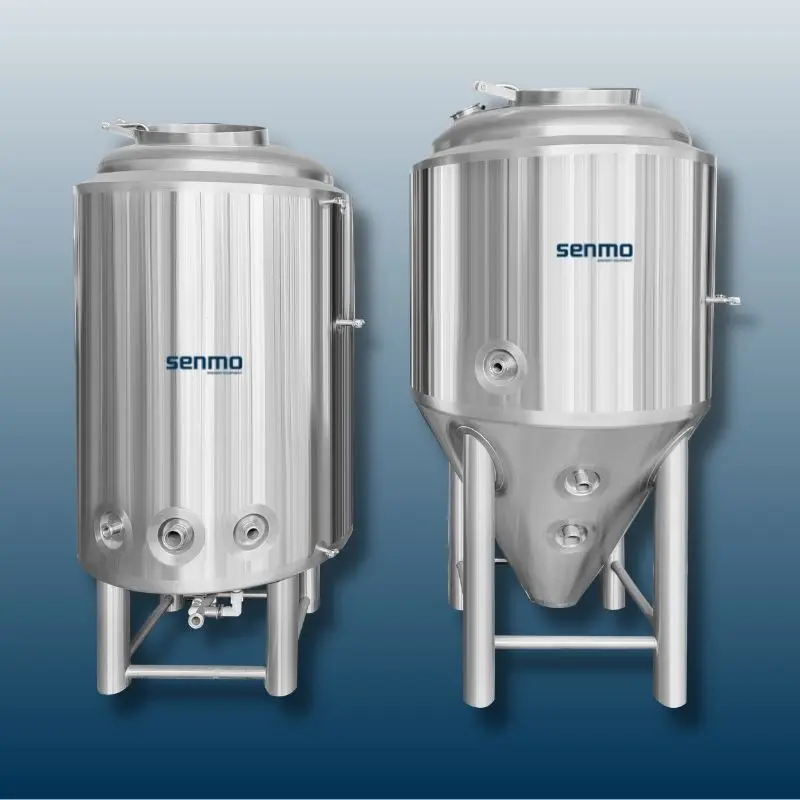 These are 400l beer fermenter and 400bbl bright beer tank made by SENMO Machinery.The tank plates and accessories of the 400l fermenters and bright beer tanks are made of international standard SUS304 stainless steel,however,if you want SUS316 stainless steel plates for the tanks,we can do the customized production for you.The beer tanks surface can be brushed polishing,mirror polishing or red copper,interior of the tanks also can be mirror polished if you want.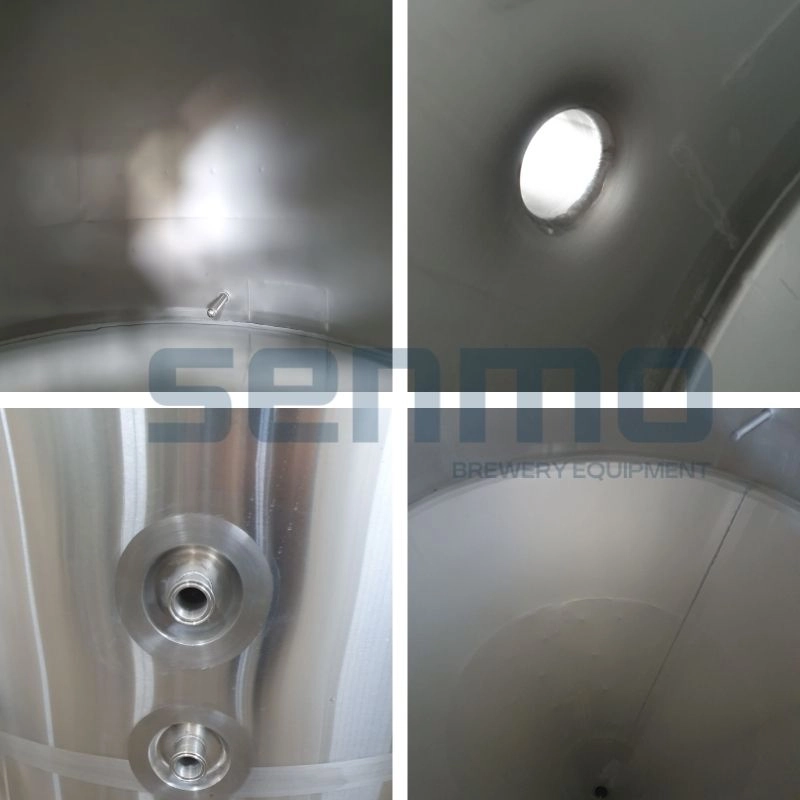 Our factory use laser cutting and argon shielded welding during the tanks' production, the internal of the tanks commonly do pickling and passivation, the surface accuracy ≤ 0.4 μ m;The fermenters and bright tank has polyurethane foam insulation,thickness is 80mm;There is dimple cooling jackets around the tank body and bottom cone,the test pressure is 0.4MPa; The working pressure of the tank is 0.15 MPa, and the test pressure is 0.4 MPa; Our factory do water pressure test to all of the fermenters and bright tanks,the test period is 48hours.The strictly test and inspection make sure the tanks inside,the dimple jackets and pipe ports has no leakage when the fermenters arrives in our clients' brewery.
The fermenters and bright tanks pipe fittings support DIN, ISO, SMS and other customized standards.Tanks top is stainless steel dished head, fermenters are lower 60 ° cone bottom,bright beer tanks are with dished bottom; The tanks manway can be on top or side of the fermenters. The cooling pipe connection can also be customized produce,you can choose tri-clamp connection,thread connection,diary coupler connection or other way you want.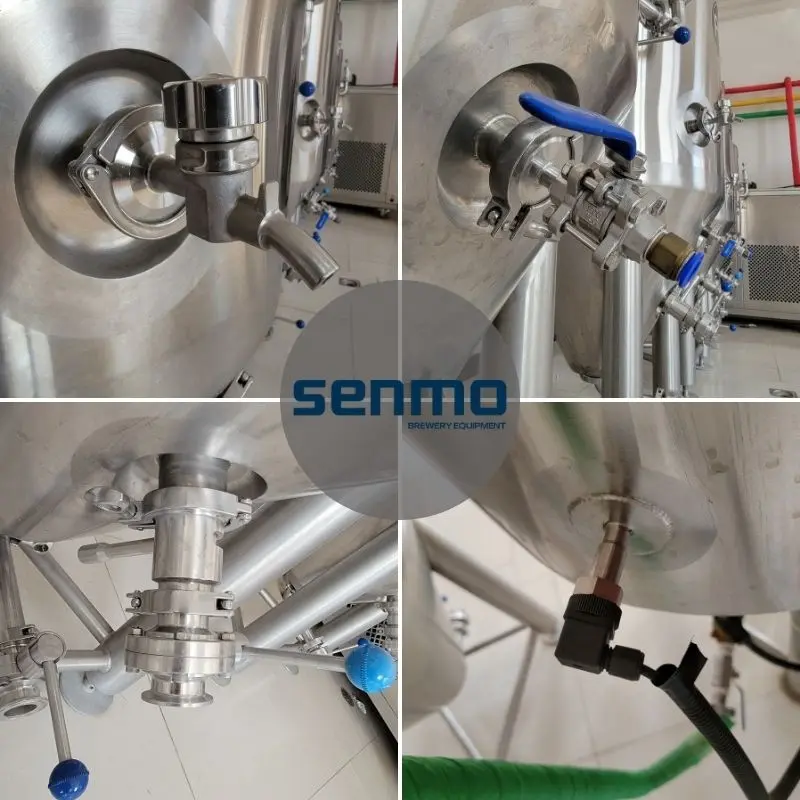 Beer sample valve+CO2 charging device+Beer racking arm+Temperature transmitter
With high precision temperature sensor, the 400l fermentation system can realized automaticlly temperature control,real-time feedback of temperature curve, it also supporting remote operation;The CIP cleaning device is an important part of beer fermenters, which is the basic condition to ensure safe production and process sanitation management of beer. The CIP cleaning nozzle is connected with the tank top device to ensure that the tank top and tank body can be cleaned well.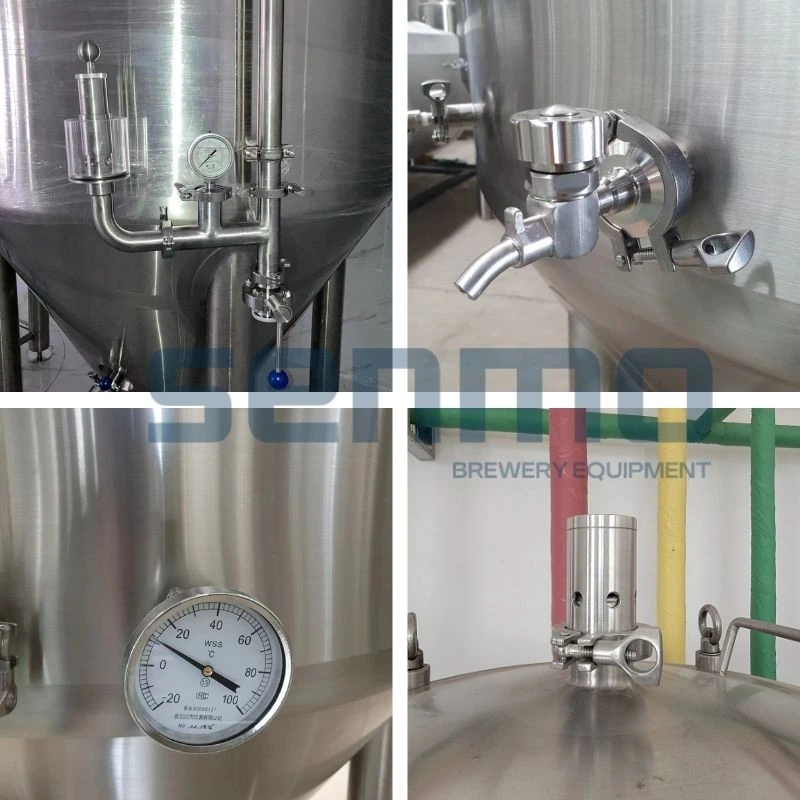 Mechanical pressure regulating valve+Beer sample valve+Thermometer+Breath valve
The 400L fermenters and 400L bright tanks equipped with safety valve, pressure regulating valve, sampling valve, beer outlet valve, blow down valve, dry hops inlet, inflation valve, CIP cleaning ball, etc.
If you want to buy the 400l beer fermenters and 400l beer storage tanks,please send us inquiry,the cost of the beer tanks are different because of the various configurations.Please leave message if you want to learn more about it,our sales engineer can send you a detailed proposal.Cheers!