Turnkey 1000L craft beer brewery machinery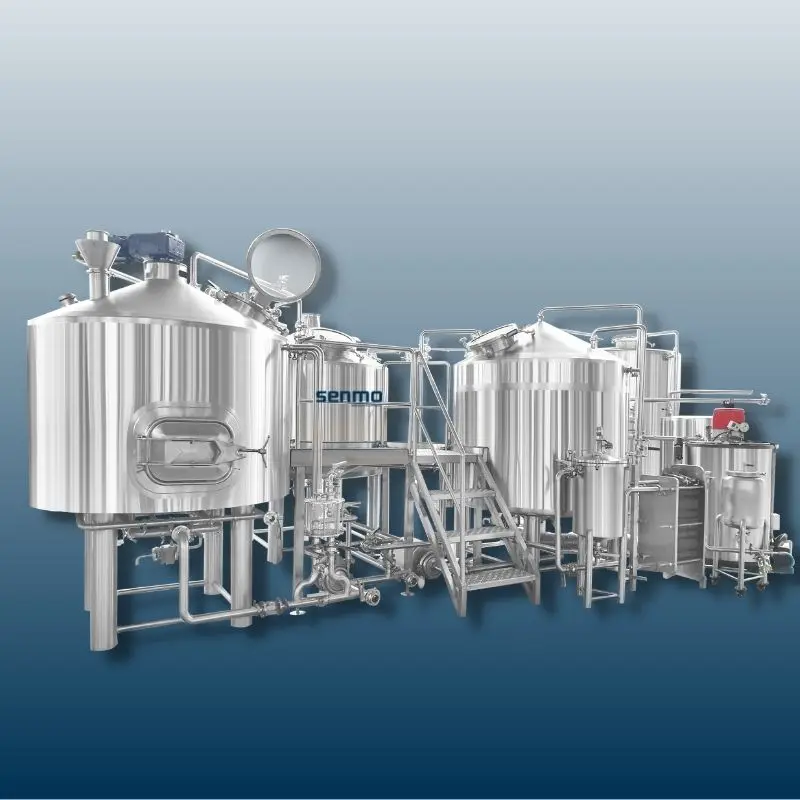 This is our turnkey 1000L craft beer brewery machinery,the whole brewery plant is seimi-automatic control.Below is the main list of the 1000L brewery machinery:
1000L mash tun with grist hydrator

1000L lauter tun with automatic spent graint exhaust device and with grain sparging coil

1000L wort kettle with steam jackets around the tank body and bottom cone

2000L hot water tank

Wort pumps and water pumps

Plate heat exchanger

Wort pipes and vlaves

Wort grant tank

Hop filters and hop back tank

Big operation platform

Gas steam generator
The design of beer brewing equipment details is rigorous, so as to maximize the utilization of brewing materials and reduce equipment energy consumption.The brewhouse tank plates and accessories are made of international standard SUS304 stainless steel; Our factory use laser cutting and argon shielded welding during the tank production,all vessels' internal do centralized pickling and passivation, accuracy ≤ 0.4 μ m;
We designed this set of 1000L craft beer brewery machinery turnkey to maintain a rigorous attitude and sophisticated design. Obtain the maximum beer output rate under the premise of maximizing cost savings.
Steam jackets around the 1000L mash tun and 1000L wort kettle: working pressure 0.15MPa, test pressure 0.4MPa, super large heating area around the tank body and bottom cone, heating rate 1-1.2 ℃/min, automatic temperature control; The mash tun frequency conversion mixing has strong convection, and the grains and water are mixed evenly, supporting high wort plato beer brewing process;Variable frequency automatic lifting plough cutter for the 1000L lauter tun, milling sieve plate is removable, the gap is 0.7mm, opening rate greater than 17%, multiple supporting points at the sieve plate bottom, and there is backwashing device to reduce sanitary dead angle; Optional bottom grain discharging and automatic grain discharging devices are used to uniformly transport the spent grains to the outdoor spent grain tank. The whole wort filter process is closed and efficient;The 1000L wort boiling kettle is equipped with forced circulation to support boiling under pressure, ensuring 8-12% boiling strength, improving the utilization rate of heat energy, and can optionally be equipped with condensate recovery device;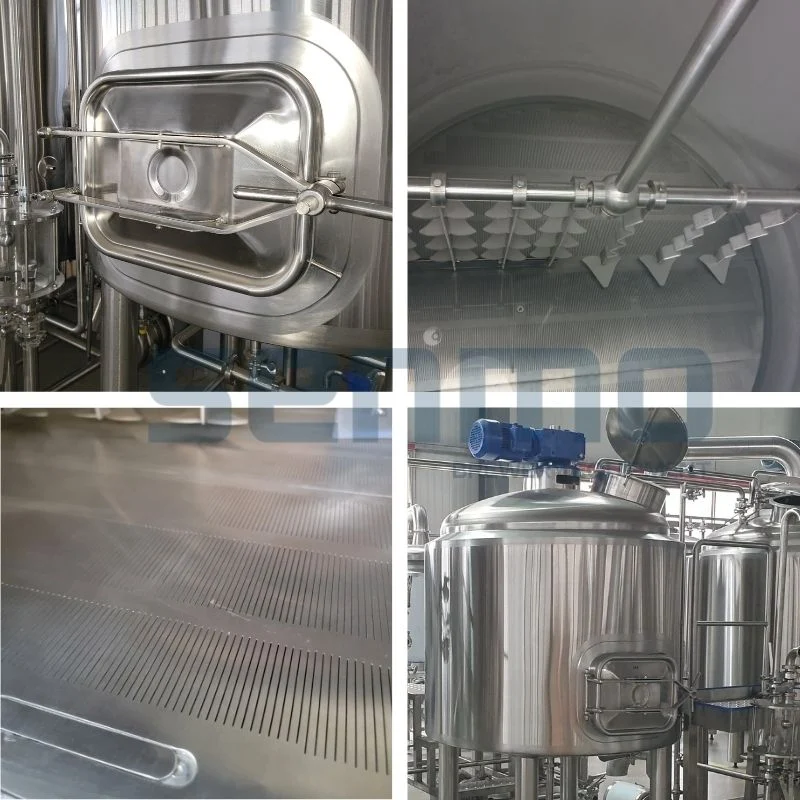 The brewhouse has high precision temperature sensor, pressure sensor, liquid level sensor and other components, Siemens PLC control, program input, multi process formula storage and setting, simple operation;Accessories of auxiliary machines are selected from domestic and foreign first-line brands, which are CE/UL certified.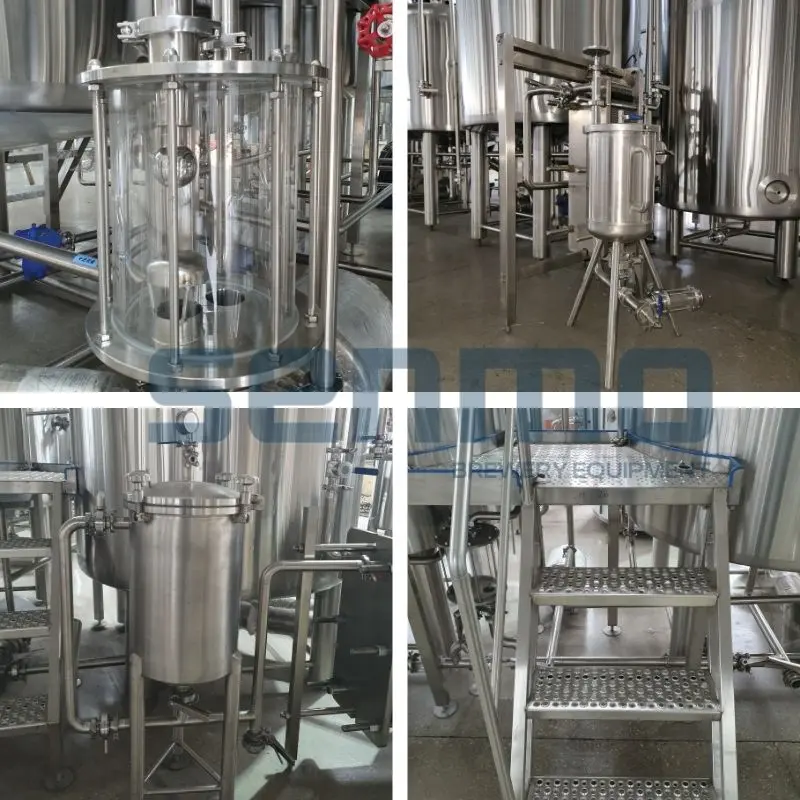 Advantages of the beer equipment:
1. The 1000L brewery machinery designing strictly follow the craft beer brewing technical process (each brewhouse part has its own transformation from process to purpose)
2. Absorb the research results of latest brewery technology and combine the actual situation of craft beer production process. The basic performance is close to the large brewery to ensure the stability of product quality.
3. For craft beer equipment operation design,some key parts are designed automatically control,such as temperature control,the glycol water pump control,the steam control. Manual and automatic need combination to ensure the equipment operation reliability.This also will ensure the stability of the beer production.
4. The details of equipment production and processing are fine both inside and outside,without sanitary dead angle.
6. The pipelines connection meet the brewing technical process requirements,also combined with the requirements of actual beer production process. (For example, sanitary conditions, oxidation prevention, bottom feeding, top feeding, etc. are all scientific)
7.High performance of the auxiliary machines (for example, the wort pump has variable frequency control,the agitation has frequency control,chiller,steam generator are good brand )
8. The equipment plate material is SUS304 or 316, thickness is 3mm, valve and pipe fitting material is food grade, 100% TIG welding with top quality,do sanding belt on the welding seam...
7. Bigger tank volume. The extra fermentation tank volume is more than 25%, and boiling kettle is more than 30%,other tanks is 20% extra. Pressure test recorded and inspected irregularly during the process,test pressure 0.4MPa, and maintain the pressure for more than 72 hours without pressure drop. Internal quality of tank body: do acid passivatio,which can reach to 0.4um, and there is no deformation or scratch. The tank liner is smooth and clean,all of the pipe welding seam need to pickled and passivated after polishing to ensure the extension of the service life of the beer equipment.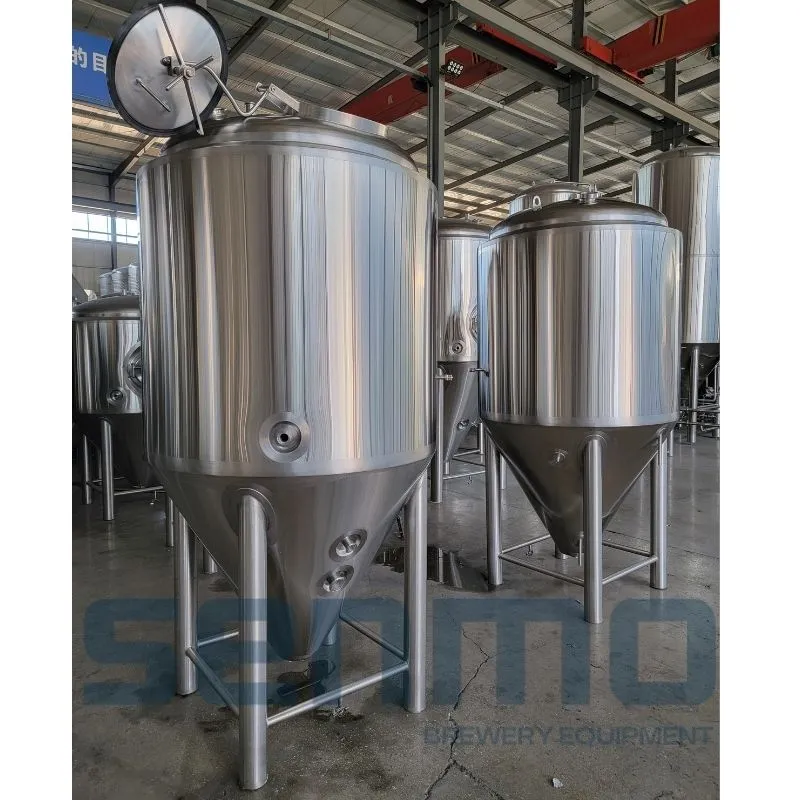 The following fittings are matched with the 1000L fermenters:
Mechanical pressure regulating valve

Beer sample valve

Breath valve

Thermometer

Hops dosing port

Temperature sensor

Beer rotary pipe

Drain outlet

CIP ball and CIP arm

CO2 carbon stone
The connection of the fittings can be tri-clamp,diary couplers and other connection way you want.Meanwhile,if you need other fitings or port on the fermenters,you can tell us and we do the special design for you.
The price of the 1000L brewery machinery is different because of various configuration.If you want to buid brewery with such capacity brewing equipment,please send us your requirements on it,such as the heating way of the brewhouse,the quantity of the fermenters,your brewery layout drawings...our sales engineer can send you a formal quote for your reference.Cheers!