Beer brewing system conical fermenter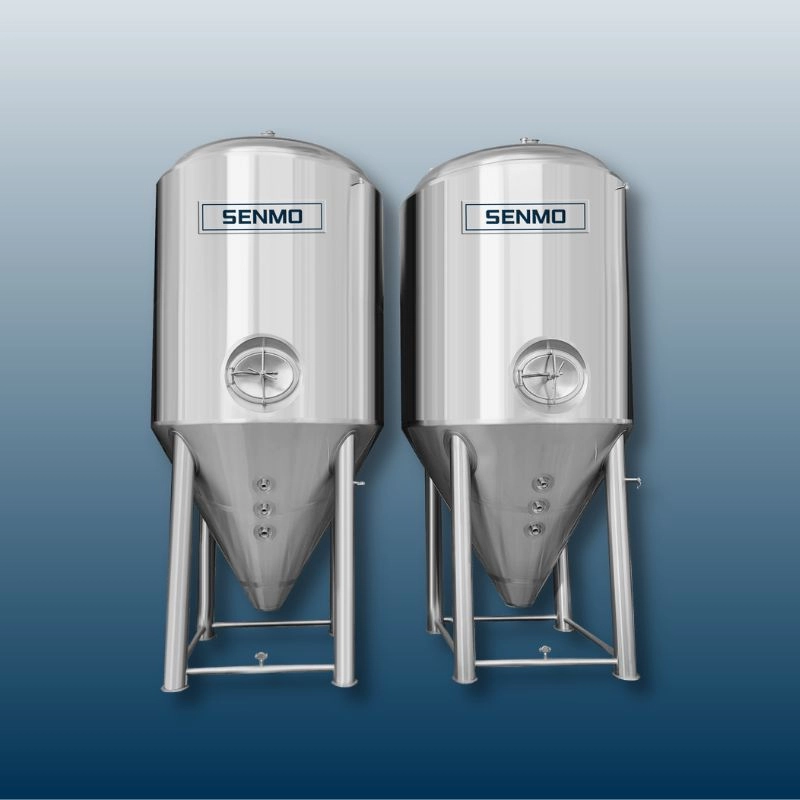 These are beer brewing system conical fermenters for microbreweries.The conical beer fermenters' pipes and fittings fittings can be designed as DIN, ISO, SMS and other customized standards.The fermenters is stainless steel dished head,with lower 60 ° cone bottom; The conical beer fermenters manway can be on top or side of the fermenters. And the cooling pipe connection can also be customized produce,you can choose tri-clamp connection,thread connection,diary coupler connection or other way you want.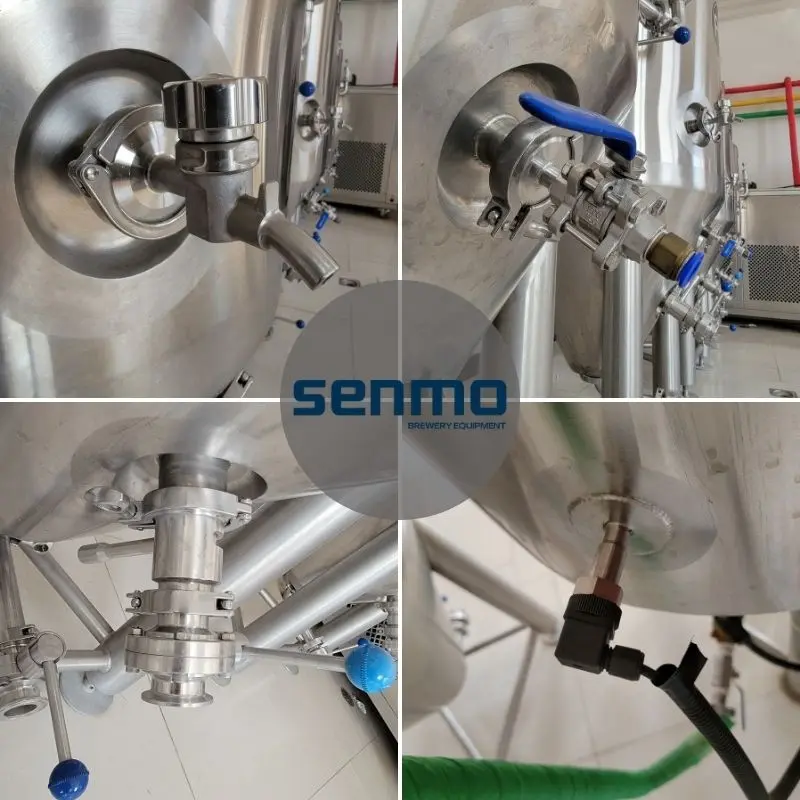 The technical parameters of the conical beer fermenters
Working volume:1000LTotal volume:1320LSize:φ1260×2510

Design temperature:Min:0℃ Max:100℃

Design pressure:2BarWorking pressure:1Bar

Inner tank thickness:2.5mmOuter tank thickness:2mmSurface process of the tank: Brushed surface

Head type:Dished headBottom type:Conical bottom,60°degree.

Insulation material and thickness:PU insulation,80mm

Cooling jackets around the cylinder and bottom cone.Cooling area: 2.2㎡

Dimple jacket design pressure:2BarDimple jacket working pressure:1Bar

CIP pipeline and CIP rotary spray ball

Side manhole

Hops dosing port on the top.Hoping entrance on the cylinder

Matched with Breath valve: Adjust the negative and positive pressure.

Matched with Sample valve

Matched with Pressure gauge and Mechanical Pressure regulating valve

Racking arm on the coneDrain outlet on the bottom

Four stainless steel legs, with screw assembly to adjust leg height, the base plate with two fixe hole;

With brace between the legs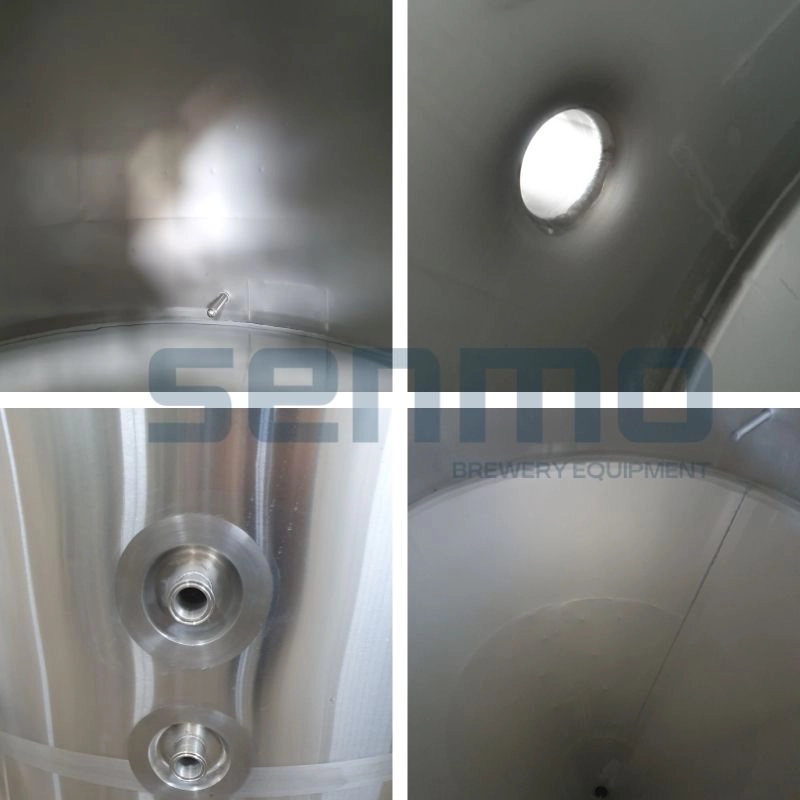 Our company adopt laser cutting and argon shielded welding during the conical fermenters' production, the internal of the fermenters commonly do pickling and passivation, the interior surface accuracy ≤ 0.4 μ m;The conical beer fermenters have polyurethane foam insulation,thickness is 80mm;There are dimple cooling jackets around the tank body and bottom cone,the test pressure is 0.4MPa; The working pressure of the tank is 0.15 MPa, and the test pressure is 0.4 MPa; Our factory do water pressure test to all of the fermenters and bright tanks,the test period is 48hours.The strictly test and inspection make sure the tanks inside,the dimple jackets and pipe ports has no leakage when the fermenters arrives in our clients' brewery.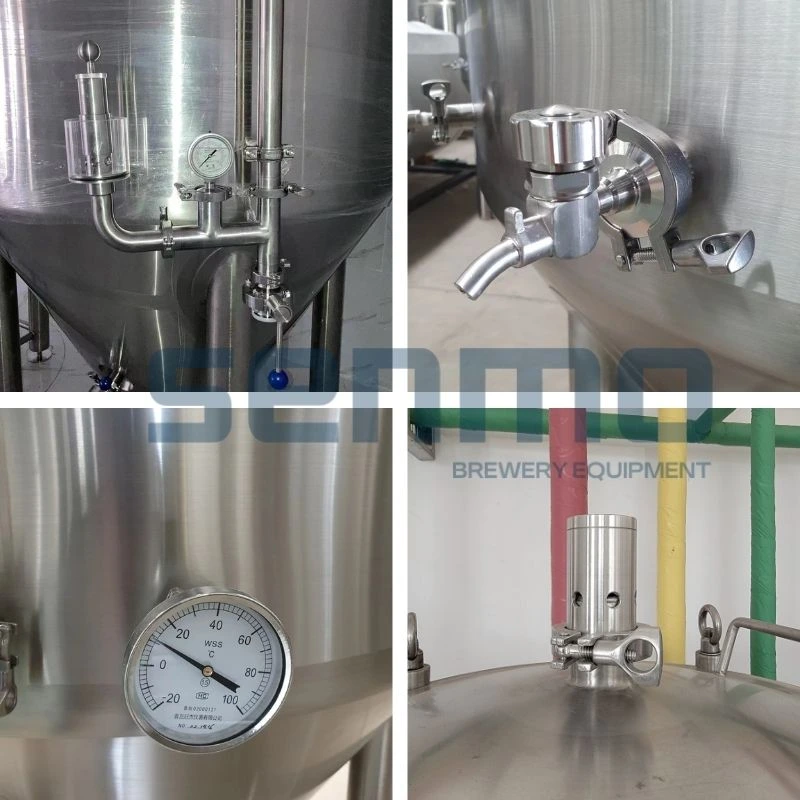 With high precision temperature sensor, the conical beer fermenters can realized automaticlly temperature control,real-time feedback of temperature curve, it also supporting remote operation;The tanks equipped with safety valve, pressure regulating valve, sampling valve, liquor outlet valve, blow down valve, dry inlet, inflation valve, CIP cleaning ball, etc.
The price of the conical beer fermenters is different because of the various configurations.If you plan to add extra conical beer fermenters inside of your breweries,please contact with us and send us your requirements such as the quantity of the fermenters,the configuration of the tanks,your brewery space layout.Our sales engineer can give you a professional quote of the fermenters.Cheers!