Brewery plant 7bbl commercial automated brewing system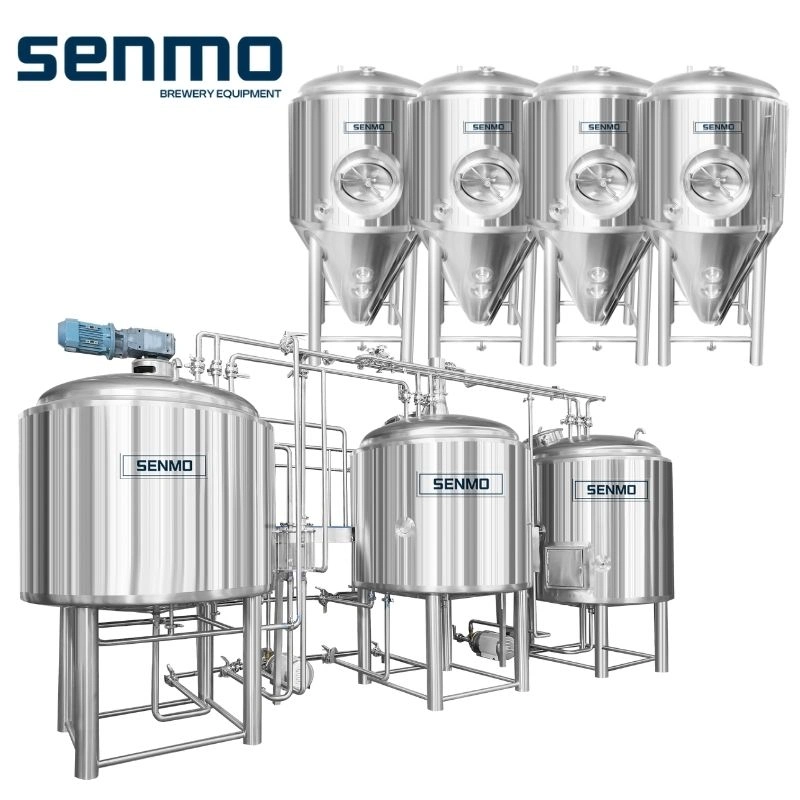 This is 7bbl commercial automated brewing system for brewery plant,the brewing temperature control is automated with optional valves automated control.The brewers can save lots of energy during the beer brewing using this micro brewing equipment.Below is the general brewing equipment list of the system:
Commercial 7bbl mash tun with grist hydrator

Commercial 7bbl lauter tun with sieve plate and rake agitator

Commercial 7bbl hot water tank with electric heating system

4*7bbl commercial beer fermenters with conical bottom

Glycol water tank

Chiller

Control cabinet

Clean in place(CIP) equipment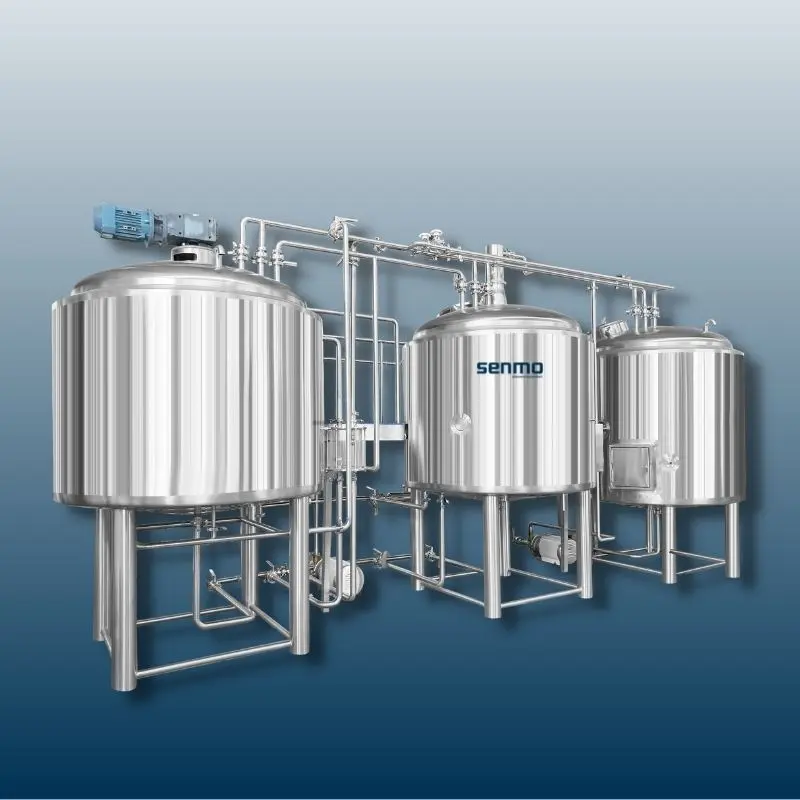 The micro brewing equipment plates and accessories are made of international standard SUS304 stainless steel; Laser cutting and argon shielded welding, internal centralized pickling and passivation, accuracy ≤ 0.4 μ m;Polyurethane foam insulation;Pipe fittings support DIN, ISO, SMS and other customized standards; Dimple cooling jacket test pressure 0.4MPa; The working pressure of the tank is 0.15 MPa, and the test pressure is 0.4 MPa;
All material of the 7bbl commercial automated brewing system in contact with product will be of Stainless Steel,304.Light glass made of glass.

All valves in contact with product will be of Hygienic Butter Valve Type

All components and wire will be with CE marked

Process connections of the 7bbl commercial automated brewing system will be designed according to your request.Sanitary screw couplings or Sanitary Tri-clamp

Welds will be fully burned,shield gas will be used.With no pores,cracks.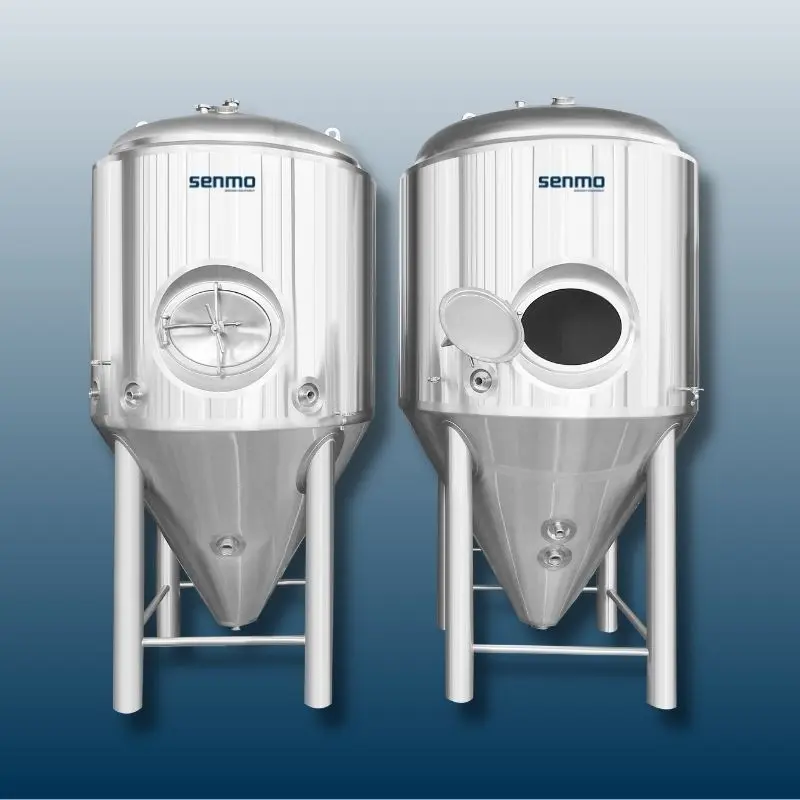 The 7bbl commercail automated beer fermenter parameters:
Working volume:7bbl,Total volume:8bb

Design temperature:Min:0℃ Max:100℃

Design pressure:2BarWorking pressure:1Bar

Inner tank thickness:2.5mmOuter tank thickness:2mmSurface process of the tank: Brushed surface

Head type:Dished headBottom type:Conical bottom,60°degree.

Insulation material and thickness:PU insulation,80mm

Cooling jackets around the cylinder and bottom cone.Cooling area: 2.2㎡

Dimple jacket design pressure:2BarDimple jacket working pressure:1Bar

CIP pipeline and CIP rotary spray ball

Side manhole

Hops dosing port on the top.Hoping entrance on the cylinder

Matched with Breath valve: Adjust the negative and positive pressure.

Matched with Sample valve

Matched with Pressure gauge and Mechanical Pressure regulating valve

Racking arm on the coneDrain outlet on the bottom

Four stainless steel legs, with screw assembly to adjust leg height, the base plate with two fixed hole;With brace between the legs
The 7bbl commercial automated brewing system has high precision temperature sensor, pressure sensor, liquid level sensor and other components, Siemens PLC control, program input, multi process formula storage and setting, simple operation; Accessories of auxiliary machines are selected from domestic and foreign first-line brands, which are CE/UL certified.
All of the commercial brewing system and work will be in compliance with the brewing equipment designe norms and standards.
•Machinery Directive 2006/42/EC According to harmonized standard EN ISO 12100:2010
•Low Voltage Directive 2014/35/EU
•Health and Safety requirements of the Directive 2006/42/EC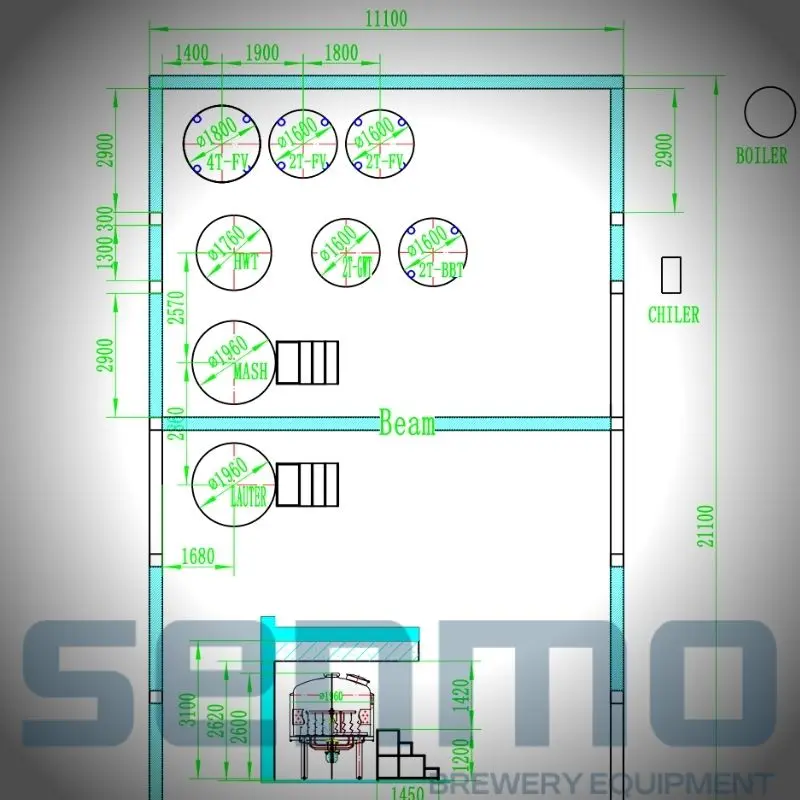 As a professional brewery equipment manufacturer,below is the services which we can provide for you:
Sales consulting. SENMO provide fast, professional and detailed beer brewery equipment configuration list and best brewery layout according to customer requirements.

Brewery equipment technical design. According to the concept of customization, put forward design suggestions, integrate customer requirements, issue beer brewing process flow diagrams,micro brewery floor plans,machinery, electrical and other drawings, draw 3D drawing, and provide one-to-one tracking services.

Commercial brewing equipment processing and manufacturing. Strictly implement the requirements of beer equipment design drawings, follow the IOS9001 quality management system, strictly control the quality of all links, and provide tanks test records of plates, welding, polishing, pressure, etc. for filing.

Turnkey brewing system delivery and installation. The professional brewery project construction team conducts on-site installation, commissioning and training to ensure accurate delivery for use and continuous tracking maintenance.