Commercial 15000L beer fermenters for big brewery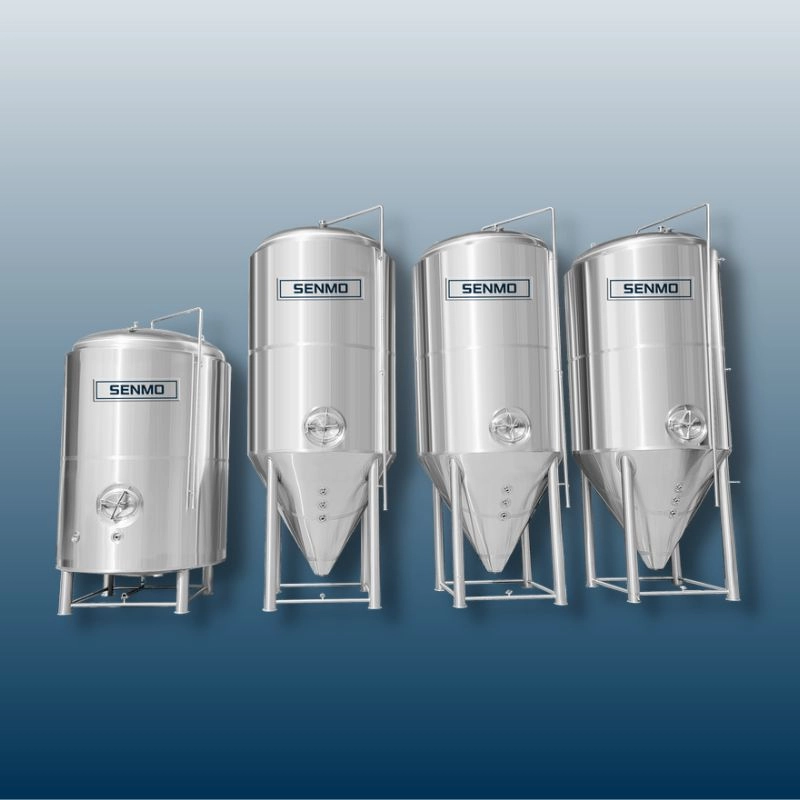 This is commercial 15000L beer fermenters and bright beer tanks for big brewery.
The tanks are made of stainless steel 304,double layer with insulation.It is brushed surface,outer tank plate thickness is 2mm,inner tank is 3mm,inner cone is 4mm.The interior of the tank inside do acid passivation. There is cooling jackets around the inner tanks,the cooling jackets are welded around the inner wall and bottom cone. During productions,the cooling jackets will do test pressure,the test pressure is 0.4Mpa,after tanks production,the inner tank will do pressure test,the test pressure is 0.4Mpa.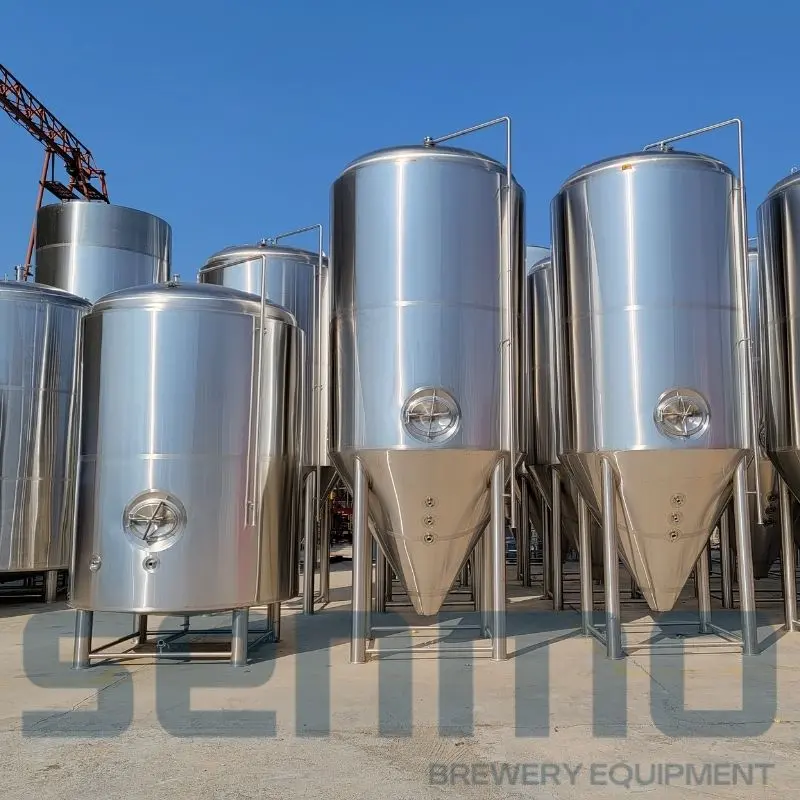 The 15000L commercial brigh beer tank and 15000L commercial beer fermentation tanks are with side manhole,4 stainless steel legs,with brace between each legs.All tanks are dished head. The following pressured tank fittings are equipped on the tanks:
Mechanical pressure regulating vlave

Safety valve

CO2 carbon stone

Beer racking arm(Beer outlet pipe)

Drain outlet

Sample valve

CIP ball and cleaning arm

Butterfly valves
All of the fittings are with top quality,and we can send you spare parts if you need.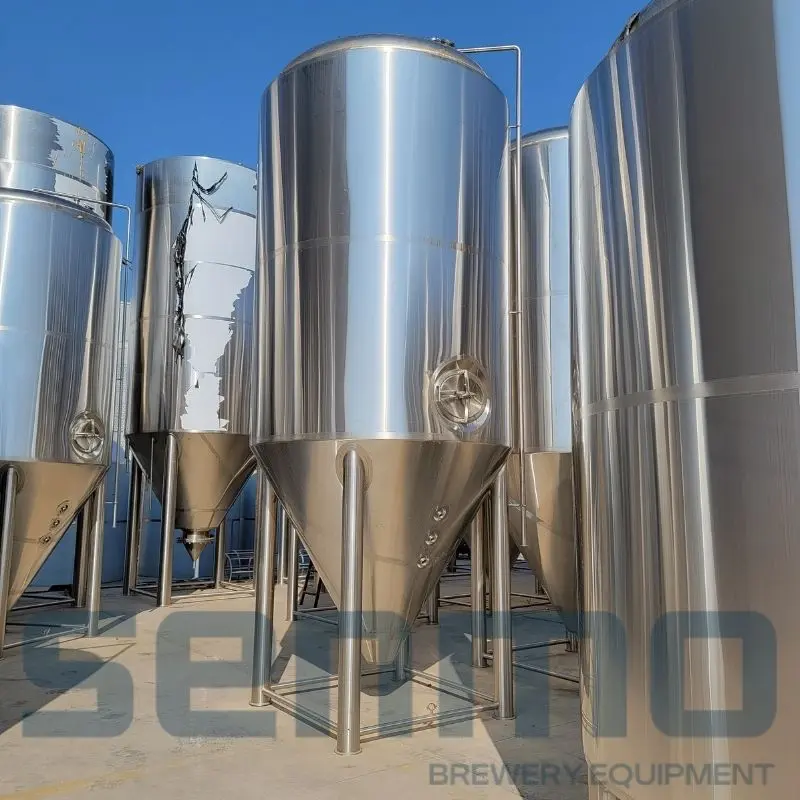 The tank plates and accessories are made of international standard SUS304 stainless steel;

Laser cutting and argon shielded welding, internal centralized pickling and passivation, accuracy ≤ 0.4 μ m;

Polyurethane foam insulation;

Pipe fittings support DIN, ISO, SMS and other customized standards;

Refrigerant jacket test pressure 0.4MPa; The working pressure of the tank is 0.15 MPa, and the test pressure is 0.4 MPa;

Side manhole, lower 60 ° cone bottom;

High precision temperature sensor, automatic temperature control, real-time feedback of temperature curve, supporting remote operation;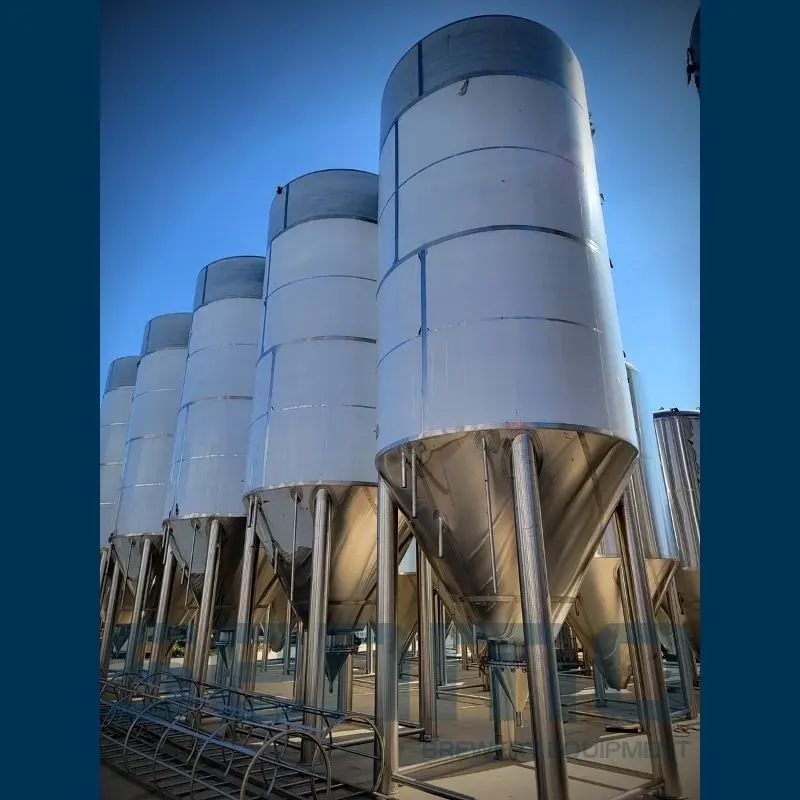 We can produce some bigger fermenters according to our clients' requirements,the volume can be 20000L fermenters,25000L fermenters and 30000L fermenters.For container loading,the maximum of the fermenter volume can be 25000L fermenters.However,if you want to install 50000L fermenters or bigger,we need to make it as half product,and send the half product to your brewery and manufacture the fermenters on site.
If you want to learn more about the commercial 15000L beer fermenters for big brewery,or even bigger fermenters,please contact with us,we have sales engineer contact with you and send you the professional proposal.Cheers!