1000L beer brewery equipment
The 1000l beer brewery equipment consists of a 1000l beer brewery equipment, a 1000l beer fermentation system, an auxiliary system, a beer filtration system, a beer refrigeration system,and PLC control system. The 1000l beer brewery equipment is advanced in design and manufacturing, and the entire process can achieve semi-automatic or fully automatic control.Below is the general brewing equipment list of the 1000l beer brewery equipment.
Malt milling system,includes malt miller,auger and grist case

1000l brewing system,includes 1000l mash tun,1000l lauter tun,1000l kettle,the heating way can be steam heating,fire directly heating or electric tubes heating.

1000l fermentation system,inclides 1000l fermenters,hops adding device,hop gun,1000l brigte tank

Cooling system,includes glycol water tank,chiller,cooling pipes and valves

CIP cleaning system,includes alkali water tank,acid water tank,CIP trolley

Control system,PID or PLC control

1000l beer brewery auxiliary system,includes steam generator,air compressor,beer filter....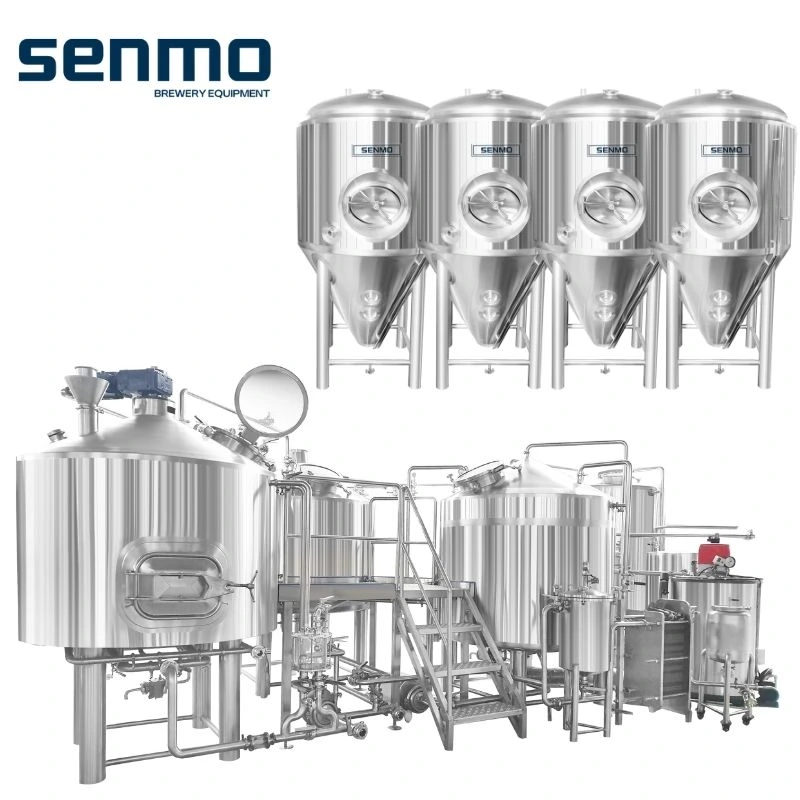 The design of 1000L beer brewery equipment details is rigorous, so as to maximize the utilization of brewing materials and reduce equipment energy consumption.The brewhouse tank plates and accessories are made of international standard SUS304 stainless steel; Our factory use laser cutting and argon shielded welding during the tank production,all vessels' internal do centralized pickling and passivation, accuracy ≤ 0.4 μ m;
The 1000L beer brewery equipment and work will be in compliance with the following norms and standards.
•Machinery Directive 2006/42/EC According to harmonized standard EN ISO 12100:2010
•Low Voltage Directive 2014/35/EU
•Health and Safety requirements of the Directive 2006/42/EC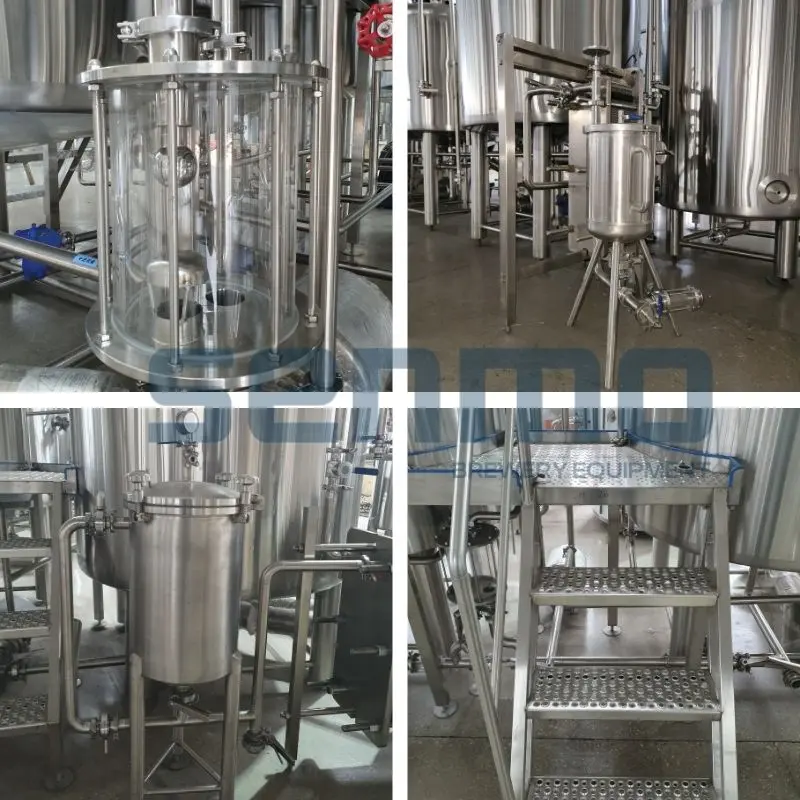 All material in contact with wort or beer will be of Stainless Steel,304.Light glass made of glass.

Pipe/Fitting standard will be designed according to your request

All valves in contact with product will be of Hygienic Butter Valve Type

All components and wire will be with CE marked

Process connections will be designed according to your request.Sanitary screw couplings or Sanitary Tri-clamp

Welds will be fully burned,shield gas will be used.With no pores,cracks.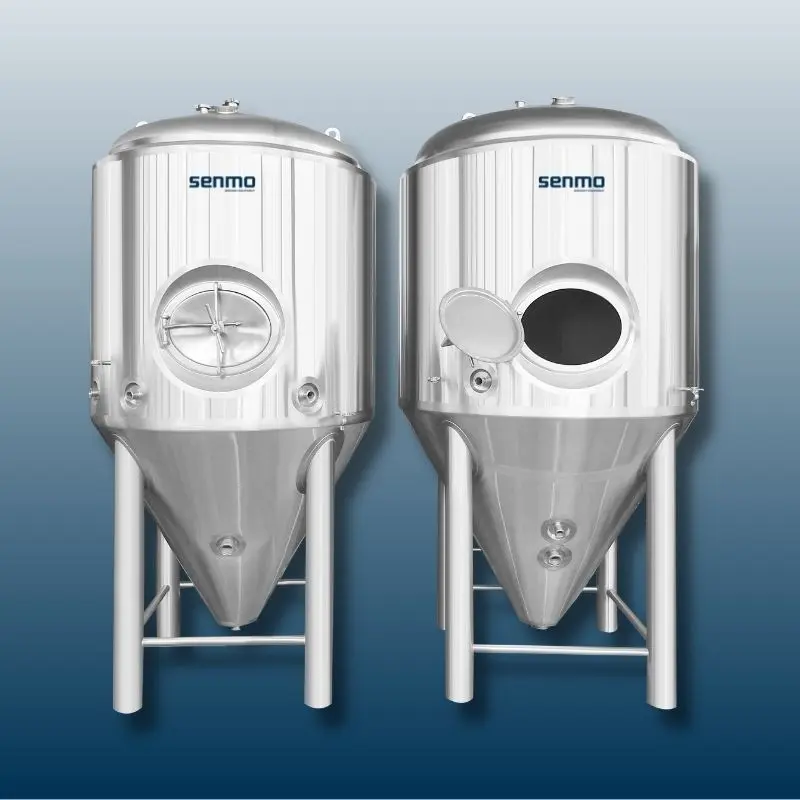 The 1000L beer fermenter details
▪SS Dished head
▪Butterfly valves, Sample valve,PVRV
▪Clamps and gaskets, pressure gauge
▪Interior shell: 304 stainless steel, thickness 3mm
▪Exterior shell: 304 stainless steel, thickness 2mm
▪Interior and exterior finish polished to a sanitary finish
▪Interior finish pickled and passivation
▪Dimple jacket cooling jackets
▪Exterior brushed finish
▪Fully welded exterior shell
▪60 degree cone bottom, with an average of 25% head space
▪Rotating racking port
▪Side/Top manway door
▪Dual zone dimple cooling jackets (3 or more on larger tanks)
▪2'' Polyurethane insulation
▪CIP arm and spray ball with a molding technology
▪Sanitary tri-clamp connections
▪Upgrade drain port size
▪Dry hop port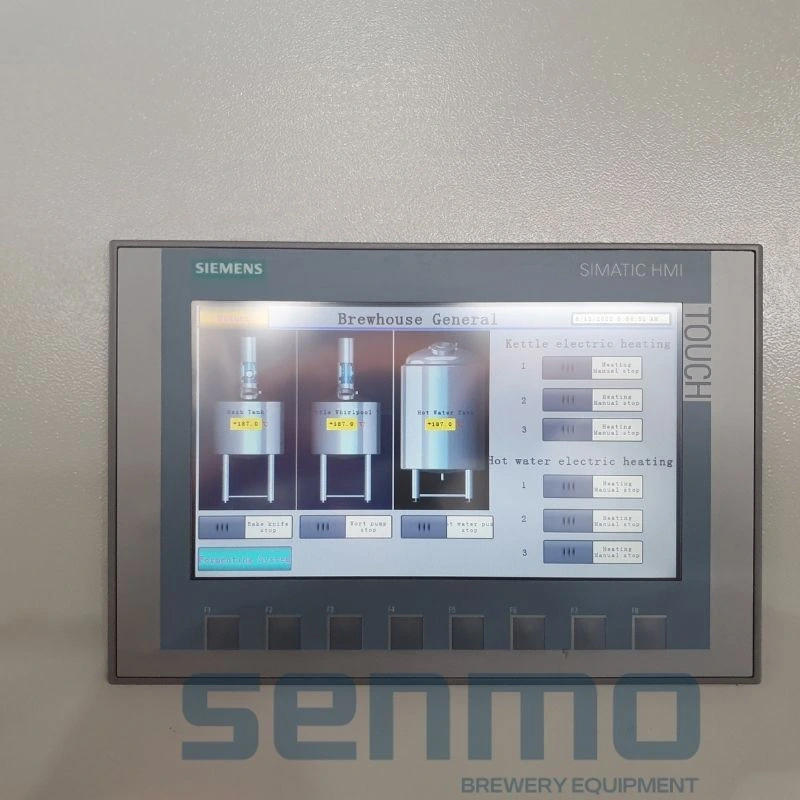 PLC touch screen system of the 1000l beer brewery equipment
▪Temperature control
PT100 connect with PLC, brewers could read the temperature on PLC, brewers also could perform temperature setting, duration of heat as well as connect with motors on touch screen, in order to help brewers to achieve more complex action process.
▪Process control
The system use Siemens frequency converter and PLC to perform USS communication, which could direct setting the rotate speed on touch screen, and also adjust the rotate speed of frequency converter by press button on frequency converter panel.
All working units could through touch screen to perform separate start and stop operation,which include pump, tank light, solenoid valve, air operated valve and so on
▪Electromagnetic flowmeter module
The system also could combine electromagnetic flowmeter, it help brewer know the real-time flow rate as well as the total volume of water, which enhance the precision level in mashing process.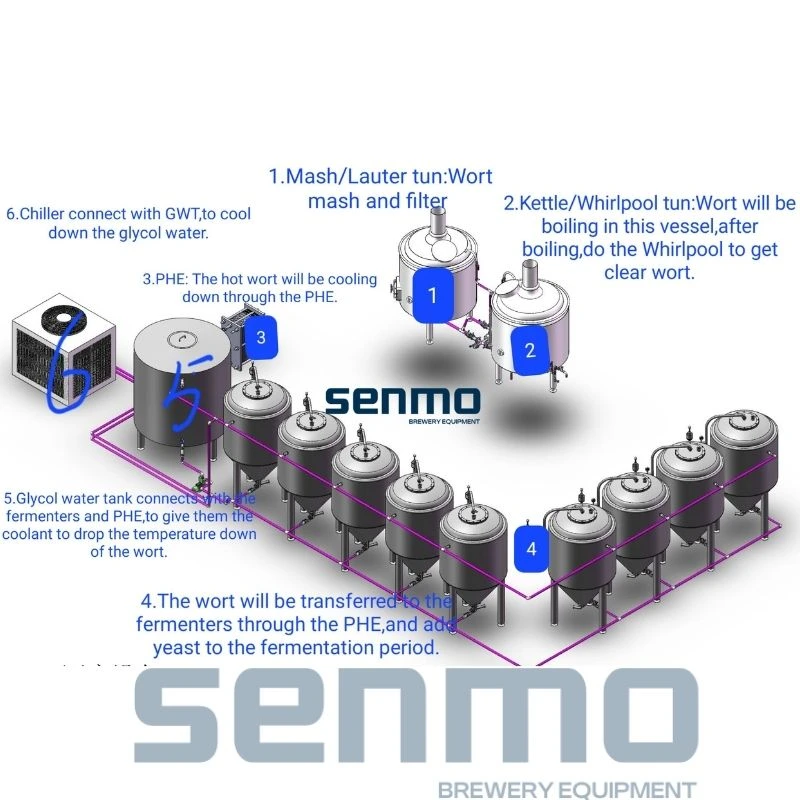 1000L beer equipment main application scenarios
A 1000L beer brewery equipment is a small to medium-sized commercial brewing system that can be used in a variety of application scenarios, such as:
Brewpubs: A 1000L brewery system is an ideal size for a brewpub, which is a small restaurant that serves beer brewed on-site. This type of brewery system can produce enough beer to meet the demand of a small restaurant while allowing the brewer to experiment with different beer styles.

Microbreweries: A 1000L brewery system is also suitable for microbreweries, which are small breweries that produce beer for local distribution. This type of brewery system can produce enough beer to meet the demand of a small market, such as a city or region.


Contract brewing: A 1000L brewery system can be used for contract brewing, which is a process where a brewery produces beer for another company. This type of brewery system can produce enough beer to meet the demand of a contract brewing client while allowing the brewery to maintain its own production schedule.


Experimental brewing: A 1000L brewery system is ideal for experimental brewing, where a brewer can try out new recipes and techniques without committing to a large-scale production run.


Education: A 1000L brewery system can be used for educational purposes, such as in a brewing school or training program. This type of brewery system can provide students with hands-on experience in the brewing process and allow them to learn about the various components and processes involved in brewing beer.

If you are considering entering the brewing beer or craft beer industry. Whether it is investing in bars,breweries, restaurants, or small and medium-sized breweries, it is necessary to have a clear understanding of the requirements for beer brewing technology and equipment technology configuration. If you have any questions about the 1000L beer brewery equipment, please communicate with professionals and manufacturers in detail. Shandong SENMO Machinery Co., Ltd., as a professional beer equipment production service provider, provides you with professional technical consultation in the early stage, and carries out equipment design, production, installation, commissioning and other services according to the requirements of beer brewing technology.