3bbl beer brewing system for university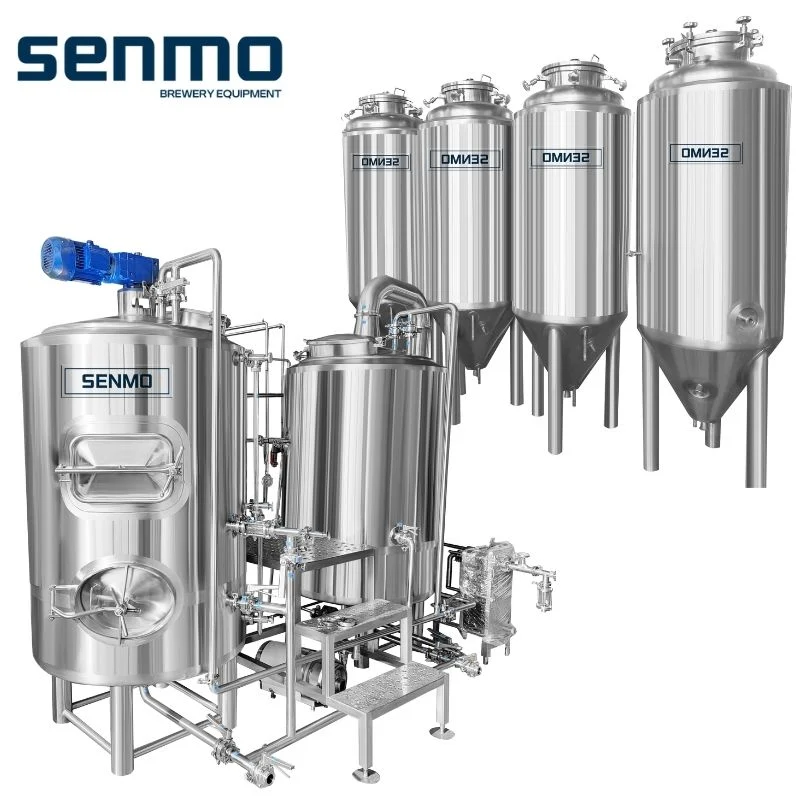 In order to meet the needs of breweries, colleges and universities for beer research and teaching. Our company uses high-quality SUS304 stainless steel material for processing and manufacturing the 3bbl beer brewing equipment in combination with the international advanced beer brewing process and technology.This set of 3bbl beer brewing system for university has high configuration and advanced performance design. The pipes and valves between the whole set of equipment are connected with sanitary quick-connecting parts. It is convenient and fast to disassemble, with comprehensive equipment configuration, accurate performance parameters, flexible operation, safe and stable. It can simulate the brewing process of beer production in large beer enterprises, demonstrate the brewing process, and meet the requirements of the brewery, scientific research institutes, colleges, universities, and technical colleges in production for scientific research.
This set of 3bbl beer brewing system can enable students to experience the full-featured production control process and production experiments of various beer varieties in the brewery, improve students' understanding of modern beer technology, and enhance students' practical ability. At the same time, this equipment can also be used for the development, experiment of new beer varieties, and research of new beer technology in the brewery. We can produce other capacity brewing equipment and the scale of each batch is mainly 50L-2000L. It can also be customized according to special requirements.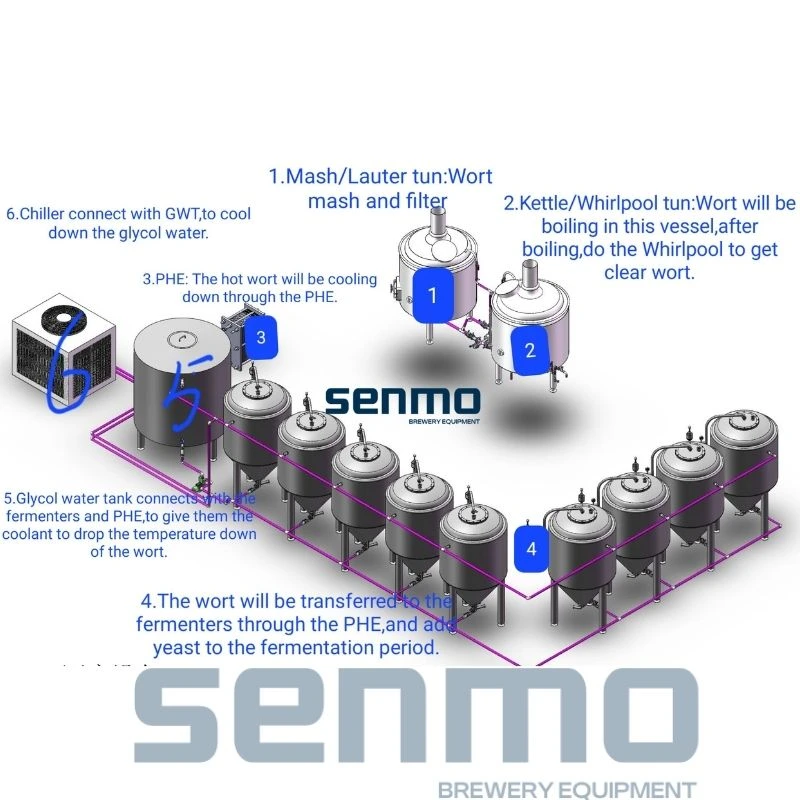 This 3bbl beer brewing system mainly includes:
-Malt crushing system:
The stainless steel twin-roll crusher is used, which can feed more and faster, break but not break, and is easy to filter and produce high liquor rate; Ensure the quality of malt crushing
-3bbl brewhouse system:
The combined three-pot brewhouse (gelatinization pot, saccharification pot, filter tank, boiling pot, rotary sedimentation tank) can be adjusted according to the winemaker's technology and usage habits. Each tank of the 3bbl brewhouse system can be adjusted at will. The steam at the bottom of the wort kettle is used for heating, and the heating rate is 1-2 degrees per hour. Direct reading temperature instrument display manual control/PLC programmable automatic control can realize mash step heating and free setting of each temperature zone; Easily complete the brewing process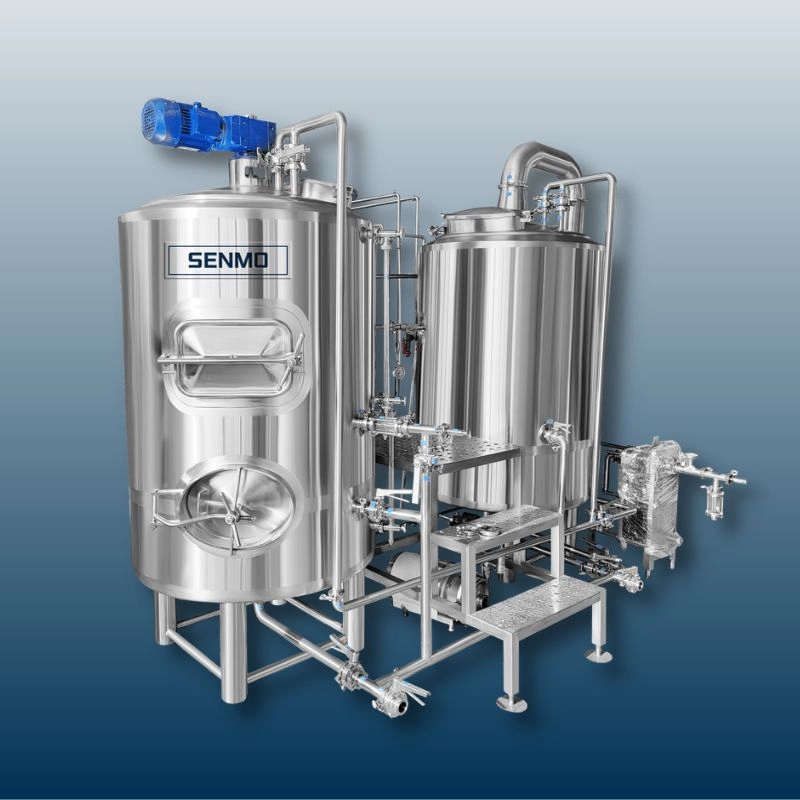 -Fermentation system
High-quality fermentation tanks, bright beer tanks, stainless steel 304/316 material, programmable PLC touch screen intelligent control system, automatic pressure and temperature control; Top sanitary oval manhole, drain outlet, all-round CIP cleaning ball, adjustable sampling valve...
-Cooling system
Air-cooled internal circulation chiller; 2 totally enclosed cryocoolers; Alternate use of high and low temperature (all compressors are famous brands).
-CIP cleaning system:
It can ensure good cleaning effect and improve product safety; Save operation time and improve efficiency; Save labor and ensure operation safety; Save water, steam and other energy, and reduce the amount of detergent;Extend the service life of beer production equipment. The advantages of acid and alkali detergents are as follows: acid washing can remove residues such as calcium salt and mineral oil through chemical reaction; Alkali washing can remove residues such as fat and protein through saponification reaction
-Yeast expansion system:
Yeast expansion equipment adopts high-quality stainless steel materials and high-quality valves. Made of pipe fittings, it is used for expanding the cultivation of brewery yeast, and can effectively preserve the yeast at the production site to ensure the purity of beer yeast. The university and college expansion culture adopts PLC automatic control to meet the different needs of different manufacturers for yeast. There are many forms and models such as secondary expansion culture and tertiary expansion culture
-Control system:
The pressure control and temperature control of brewhouse system, fermentation system, sake system, beer cooling system, etc. can be easily completed by Siemens programmable logic controller PLC, which can realize both automatic control and manual control on the interface. The control system is convenient for centralized management and discrete control, reliable and strong, simple operation interface, strong system scalability, and can meet the requirements of production and scientific research. Special design and customization can also be carried out according to customer requirements.
-Beer Filtration system:
Diatomite filtration, membrane filtration, centrifugal filtration, etc
-Sterilization system:
Pasteurization, high-temperature instant killing, etc
-Filling system:
Isobaric bottle filling machine, beer canning machine,beer keg washing and filling machine etc
If you have interest in buying the 3bbl beer brewing equipment for university and colleges, you can start to study and compare different beer equipment options and select the appropriate equipment. SENMO Beer Equipment is a company specializing in the production of beer equipment, craft beer equipment and industrial beer equipment. The model of craft beer equipment ranges from 100 liters to 10000 liters, which is suitable for different places such as beer houses, bars,restaurants,universities and colleges. If you need any help, please contact us to provide you with a turn-key brewing solution!