In the world of brewing, precision, quality, and innovation matter. At SENMO, we understand the importance of these factors, and that's why we're your trusted partner for crafting outstanding beer. We take immense pride in unveiling our latest product, the Brewery 50HL 5000L beer brewing system.
Brewery 50HL 5000L beer brewing system
This is 50HL 5000L 4-vessel beer brewing system for brewery plant,the whole brewhouse include the following equipment
5000L mash tun with malt hydrator

5000L lauter tun with rake agitation

5000L wort boiler with steam inner heater

5000L whirlpool tun with tengant whirlpool inlet

10000L hot water tank

10000L cold water tank


Wort pumps with VFD control

Wort pipes and valves

Wort chiller

Wort balance tank

Operation platform
The calculation of brewing technical process details is rigorous, so as to maximize the utilization of raw brewing materials and reduce energy consumption.
The brewhouse tank plates and accessories are made of international standard SUS304 stainless steel; And our factory use laser cutting and argon shielded welding during the brewhouse production,all of the vessel internal surface do centralized pickling and passivation, accuracy ≤ 0.4 μ m;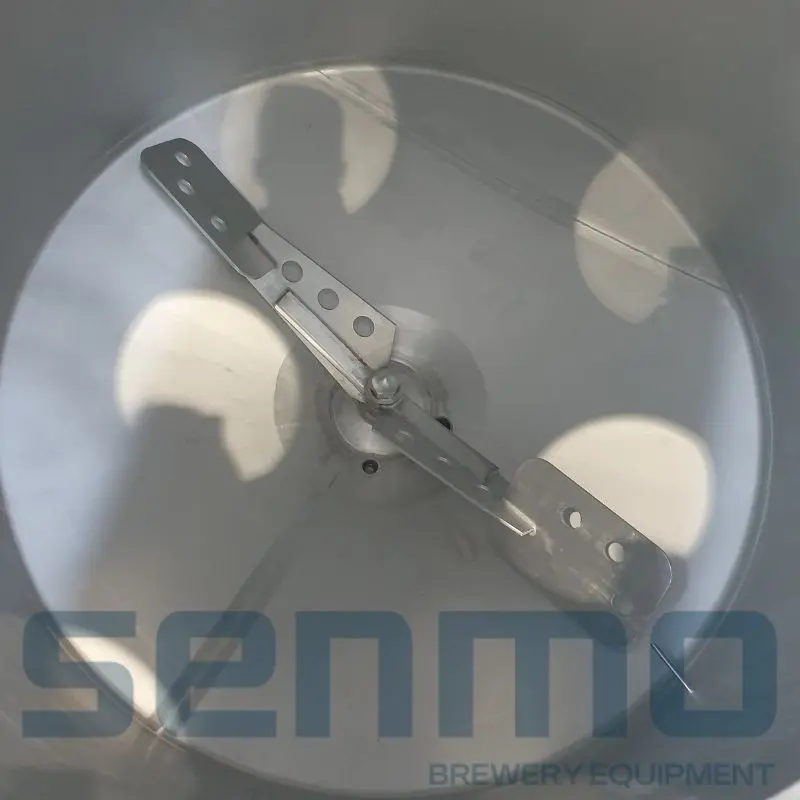 Steam jacket around the 5000L mash tun and 5000L wort kettle: working pressure 0.15MPa, test pressure 0.4MPa, with super large heating area on the vessel, the heating rate is 1-1.2 ℃/min, automatic temperature control; Mash tun frequency conversion mixing has strong convection,the grains and water are mixed evenly, supporting high wort plato beer brewing process;
Variable frequency automatic lifting plough cutter for the 5000L lauter tun, milling sieve plate is removable, the gap is 0.7mm, opening rate greater than 17%, multiple supporting points at the sieve plate bottom, and there is backwashing device to reduce sanitary dead angle; Optional bottom grain discharging and automatic grain discharging devices are used to uniformly transport the spent grains to the outdoor spent grain tank. The whole wort filter process is closed and efficient;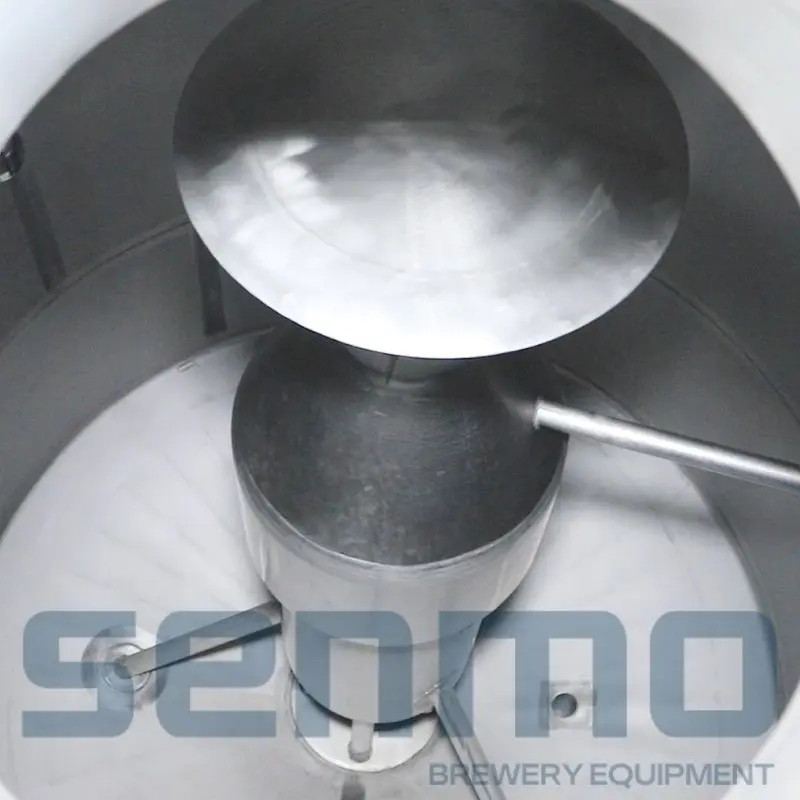 The 5000L wort boiling kettle is equipped with forced circulation to support boiling under pressure, ensuring 8-12% boiling strength, improving the utilization rate of heat energy, and can optionally be equipped with condensate recovery device;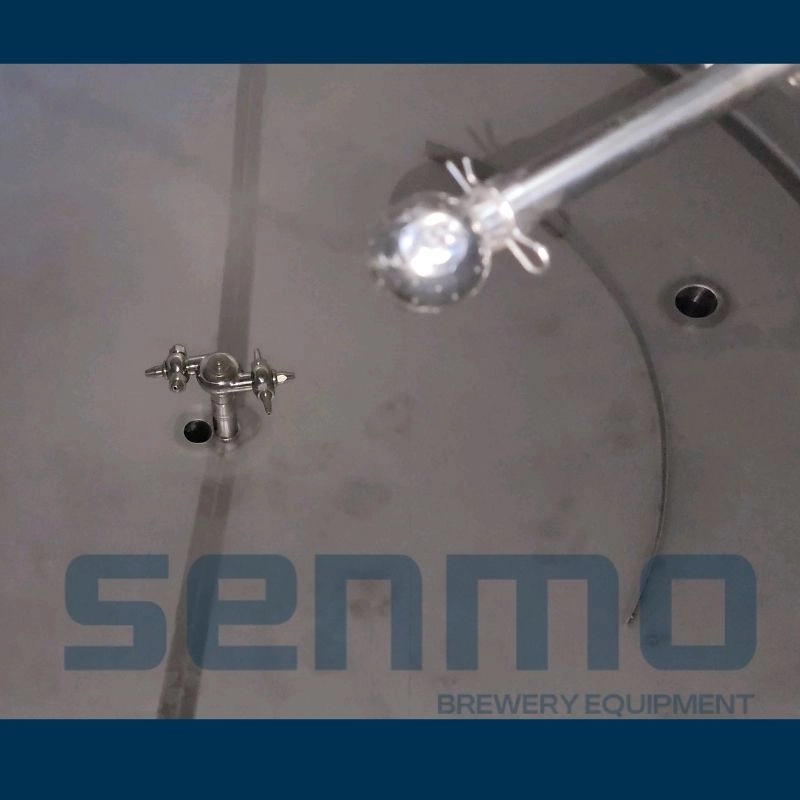 The 5000L wort whirlpool tank circulates tangentially, and the high and low liquid level discharge ports are equipped with baffles for hot solidified substances and hops decomposition substances;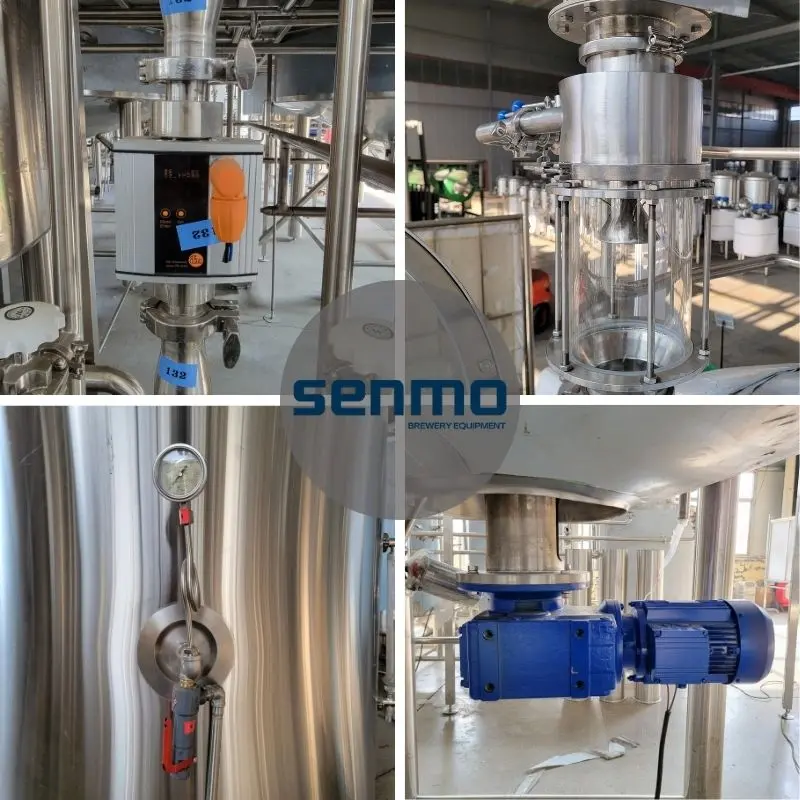 Hot water flowmeter+Malt hydrator+Steam safety valve+Motor reducer
The brewhouse system has high precision temperature sensor, pressure sensor, liquid level sensor and other components, Siemens PLC control, program input, multi process formula storage and setting, simple operation;Accessories of auxiliary machines are selected from domestic and foreign first-line brands, which are CE/UL certified.
The cost of the 5000L beer brewing system is different because of the various configuration.If you plan to build brewery with such beer production capacity,please send us your requirements on it,such as the brewhouse combination,the quantity of the fermenters,your brewery layout drawings...our sales engineer can send you a formal quote for reference.Cheers!
SENMO: Your Brewing Equipment Partner
SENMO stands as a symbol of expertise in brewing equipment manufacturing. With years of experience and a commitment to engineering excellence, innovative designs, and top-notch equipment, we're the name brewers trust. We firmly believe that exceptional beer begins with superior brewing equipment. That's why we've dedicated ourselves to provide state-of-the-art technology, ensuring your beer maintains its excellence batch after batch.
Features of

The Brewery 50HL 5000L Beer Brewing System

Our pride and joy, the Brewery 50HL 5000L beer brewing system, is tailored to meet the demands of large-scale beer production. Here are some of its standout features:




1. 50HL/5000L Batch Production: This system's substantial batch production capability empowers you to cater to a wide spectrum of markets, from local to regional and even national.




2. Premium Materials and Craftsmanship: Crafted with premium stainless steel and precision engineering, our Brewery 50HL 5000L system guarantees durability and stability. You can rely on this equipment for the long term, free from concerns of frequent maintenance or replacements.




3. Comprehensive Brewing Process: The system encompasses every critical step from grain mixing to wort separation, boiling, cooling, fermentation, and maturation. It's an all-in-one brewing solution to meet your production needs.




4. Quality Control: We recognize that quality is paramount in the brewing industry. Therefore, our system is equipped with advanced quality control tools and monitoring devices to ensure every batch of beer meets your high-quality standards.




5. Customization: SENMO's Brewery 50HL 5000L system is customizable to fit your specific requirements. Whether you're a newcomer to the industry or an established player, we can provide a tailored solution.
Why Choose SENMO?
Unparalleled Quality: SENMO is renowned for its commitment to quality, and our brewing equipment is designed to create impressive beer consistently.
Experienced Team: With a team of experienced engineers and technicians, we offer professional support and advice to help elevate your brewing process.
Customer Support: We're dedicated to building long-term relationships with our customers. We provide prompt customer support to meet your needs and ensure your equipment operates at its best.
Global Service: SENMO's service network spans the globe, enabling us to provide support and services to customers worldwide.
At SENMO, we don't just offer exceptional brewing equipment; we provide comprehensive support to help your beer production business thrive. We proudly present the Brewery 50HL 5000L beer brewing system – a reliable, efficient, and customizable solution that will assist you in succeeding in the competitive market. Choose SENMO for quality and innovation, and let's craft a flavorful beer future together.
If you're interested in our products and services, feel free to contact our sales team anytime. We're here to provide more information and guidance. SENMO looks forward to becoming your brewing partner on the journey to brewing excellence.
FAQ
Q1: What is the batch size of the Brewery 50HL 5000L system?
A1: The Brewery 50HL 5000L system has a batch size of 50 hectoliters (or 5000 liters) of beer per brew.
Q2: What are the key components of the Brewery 50HL 5000L beer brewing system?
A2: The key components include a mash tun, lauter tun, kettle, whirlpool, fermenters, and optional conditioning tanks. These components are used for various stages of the brewing process.
Q3: Is the Brewery 50HL 5000L system customizable to fit our brewery's specific needs?
A3: Yes, SENMO's Brewery 50HL 5000L system is customizable to accommodate your specific requirements. Whether you need additional tanks, special features, or unique configurations, we can tailor the system to meet your needs.
Q4: What materials are used in the construction of the system?
A4: The Brewery 50HL 5000L system is constructed with high-quality stainless steel, ensuring durability and resistance to corrosion.
Q5: Does SENMO provide installation and setup services for the brewing system?
A5: Yes, SENMO offers installation and setup services to ensure your brewing system is installed correctly and ready for operation. Our experienced technicians can assist with this process.
Q6: How does the quality control feature of the system work?
A6: The Brewery 50HL 5000L system is equipped with advanced quality control tools and monitoring devices. These tools help ensure the consistency and quality of each batch of beer produced. Parameters such as temperature, pressure, and fermentation progress can be monitored and adjusted as needed.
Q7: Is there a warranty for the Brewery 50HL 5000L system?
A7: Yes, SENMO typically offers a warranty for its brewing systems. The specific warranty terms and conditions may vary, so it's advisable to consult with our sales team for detailed warranty information.
Q8: Can the Brewery 50HL 5000L system be used for both small-scale and large-scale brewing operations?
A8: Yes, the system is versatile and suitable for both small and large-scale brewing operations. Its 50HL batch size allows for efficient production, making it adaptable to your brewery's growth.
Q9: Does SENMO provide training for brewery staff on operating the system?
A9: Yes, SENMO offers training programs to ensure that your brewery staff is well-versed in operating and maintaining the Brewery 50HL 5000L system. Proper training is essential for maximizing the system's efficiency and performance.
Q10: How can we get more information about the Brewery 50HL 5000L beer brewing system and request a quote?
A10: To receive more information about the system and request a quote, please contact our sales team. They will be happy to assist you and provide all the necessary details you need.
If you have any additional questions or need further clarification, please feel free to reach out to our team for personalized assistance.