Our customers in Canada generally purchase a complete set of beer equipment systems for commercial use. So what do these beer equipment include? Common commercial beer equipment includes: brewing stand, condensation tower, saccharification stand, fermentation tank, liquid adjustment tank, storage barrel, bottling machine, labeling machine, etc. In addition to the above-mentioned equipment, a series of equipment such as filters, distillation towers, and sterilization towers can also be selected to meet more refined production requirements.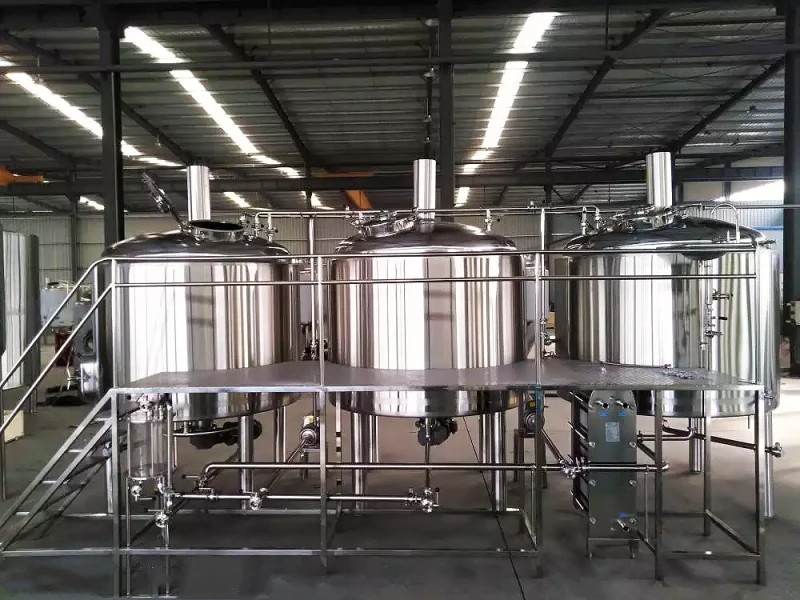 "This is the commercial beer equipment we are going to send to Canada."
In fact, the larger the beer brewing equipment, the more complete the brewing environment needs a complete system. Micro beer equipment is much simpler to think about.
Let's take a look at the capacity of the beer equipment. The capacity of commercial beer equipment will vary according to production needs. Usually, the capacity of fermenters can reach more than 5000 liters, and other equipment can be 100L, 200L, 300L, 500L, 1000L-3000L. If necessary, we can design custom beer equipment according to your venue for commercial use.
If you are in Canada and ready to start your own beer business, then we can give you the best beer equipment.
Things to consider when purchasing commercial brewing equipment
When purchasing commercial brewing equipment in Canada, the following factors are crucial:
Production scale: Equipment should be sized to match the brewery's production needs. You need to determine whether your brewery is a small craft brewing or a large scale brewing operation.
Budget: The cost of commercial brewing equipment depends on the type and quality of the equipment. You need to choose the equipment according to your budget and financial plan.
Custom Needs: We offer the option to customize our equipment to meet specific brewing needs. If you have special requirements, this may be a consideration.
Comply with regulations: Make sure your equipment complies with local and Canadian health and safety regulations, as well as those related to beer manufacturing.
What are the characteristics of beer brewing equipment?
Commercial beer equipment has the following advantages:
1. Accuracy: The fermentation process can be precisely controlled to achieve the ideal beer flavor;

2. It has reliable safety and firm structure;

3. Convenience: It can realize automatic operation and greatly improve the beer production efficiency;

4. Efficiency: The closed structure can prevent microbial contamination and avoid waste of raw and auxiliary materials.
How to use beer brewing equipment?
When using commercial beer equipment, the following points should be noted:
1. Operate correctly to avoid equipment damage;

2. Keep the equipment clean, regular inspection and maintenance;

3. Control the brewing quality according to the requirements of production standards;

4. Ensure the safety of the equipment, and regularly check the safety components of the equipment;

5. Avoid using polluted raw materials, pay attention to the control of air volume, etc.
Using beer equipment according to the specifications can extend the service life of the equipment very well. As a commercial use, extending the life is equivalent to making more profits.
If you are from Canada and are looking to purchase beer equipment, what factors should you consider? As a beer equipment for commercial use, it would be better to consider it comprehensively.
Some factors need to be considered when purchasing commercial beer equipment, such as performance, automation level, price, supplier service quality, and after-sales service guarantee capabilities, etc. Before buying, it is necessary to make a comprehensive comparison. Don't ignore the cost-effective factor. It is best to know the service quality of the beer equipment supplier, such as whether to provide installation, commissioning and other services.
FAQ
1. What is commercial brewing equipment?
Commercial brewing equipment refers to the specialized machinery and vessels used in large-scale beer production by commercial breweries. It includes various components like mash tuns, fermenters, kettles, and cooling systems.
2. What are the different types of commercial brewing equipment available?
Commercial brewing equipment includes a range of components, such as mash tuns, lauter tuns, boil kettles, fermenters (both fermenting and conditioning tanks), hot liquor tanks (HLT), and bottling or packaging equipment.
3. What sizes of commercial brewing systems are available for Canada?
Our commercial brewing systems for Canada are available in various sizes to suit different brewery capacities. Common sizes include 7 bbl, 15 bbl, 30 bbl, 60 bbl, and more, depending on your production needs.
4. Can I get custom-designed brewing equipment in Canada?
We offer customization options to meet the specific needs and preferences of breweries in Canada. You can discuss your requirements with us to design equipment tailored to your brewery.
5. What should I consider when choosing commercial brewing equipment in Canada?
Consider factors like your brewery's production capacity, available space, budget, desired features, and long-term expansion plans when selecting commercial brewing equipment. It's essential to choose equipment that aligns with your brewery's goals.
6. Are there regulations and certifications for brewing equipment in Canada?
Yes, brewing equipment must adhere to safety and quality standards in Canada. Look for equipment that meets relevant regulations and certifications to ensure its safety and compliance with local laws.
7. What support and services do equipment suppliers offer?
Equipment suppliers often provide installation, training, maintenance, and customer support services. It's advisable to inquire about the support services offered when purchasing brewing equipment.
8. How can I estimate the cost of commercial brewing equipment in Canada?
The cost of commercial brewing equipment varies significantly based on the size, complexity, and brand. It's recommended to request quotes from multiple suppliers and consider factors like shipping and installation costs.