Complete 3000L commercial beer equipment for sale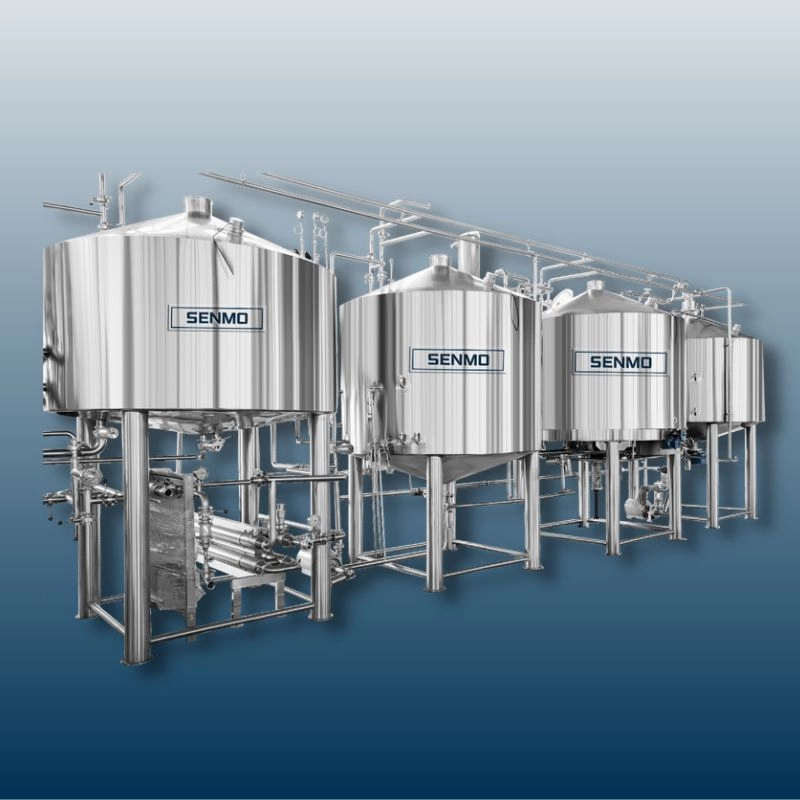 This is whole set of 3000L commercial beer equipment made by SENMO company.The brewing equipment is with fully automatic control way,the kettle and mash tun are heated by steam.The linear shaped brewhouse layout is designed according to client's brewery site.Below is the main parts of the 3000L brewing equipment:
3000L mash tun with malt hydrator

3000L lauter tun up&down agitation rake

3000L brew kettle with steam jackets around the wall and bottom cone

3000L whirlpool tun with tangent whirlpool inlet

6000L hot water tank

Wort pumps,mash pump and lauter pump

Plate heat exchanger

Wort pipes and valves

Control cabinet

Stainless stell operation platform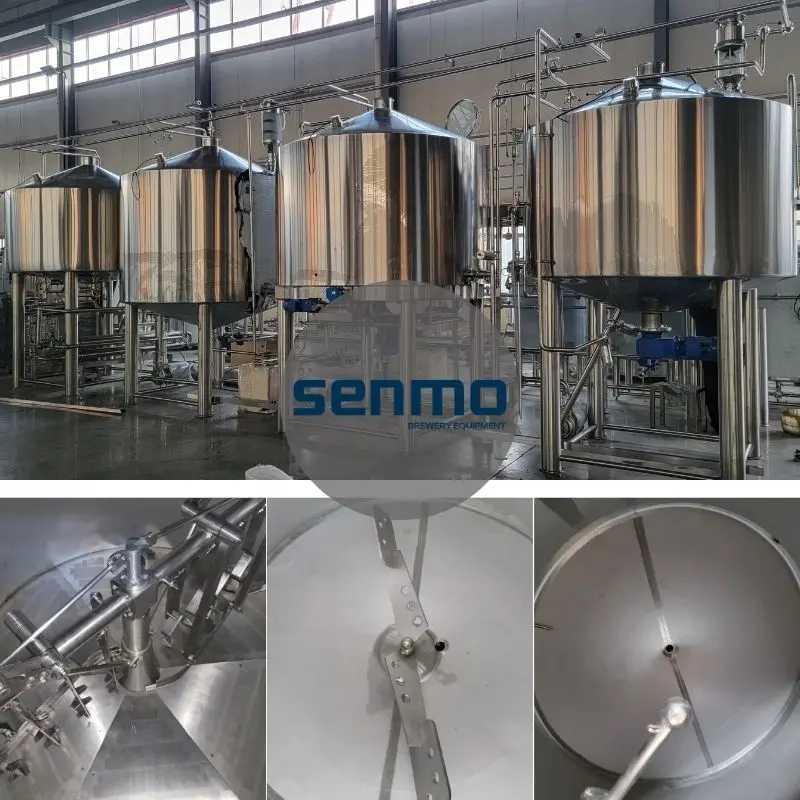 Rake knife inside of lauter+Paddle agitator inside of mash tun+Kettle inside
Main features of the 3000l mash tun
Malt and water hydrator connected with silo or malt conveying device is installed on the top outside the tank to fully mix malt and water

Large glass manhole, which can easily enter and exit the tank; Reinforced glass, customized LOGO printed; Stainless steel locking handle

The paddle blade of the agitator is long and wide, the outer edge is reverse symmetrical, and the convection is strong; Frequency conversion speed regulation, automatic speed control; The blade is inclined and perforated, with low shear force and oxygen absorption prevention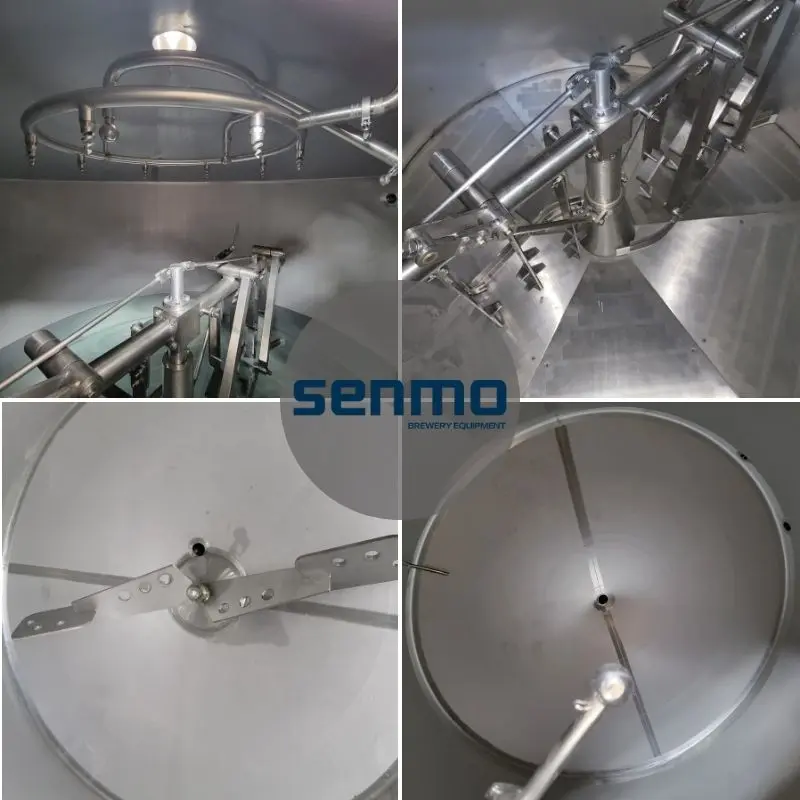 Sparging water coil+Rake device+Agitation paddle+Kettle inside
Main features of the 3000l lauter tun
The top of the lauter tun interior is equipped with a grain washing device to make the grain washing water sprayed more evenly.

The plow blade can be adjusted by frequency conversion, equipped with a reducer with high torque and low energy consumption, and equipped with forward and reverse control.

Backwashing device is installed at the bottom of sieve plate.

The design of multi-point wort collection can realize uniform grain bed formation and high-yield extract collection.

Stainless steel/Glass wort balance tank is provided to prevent negative pressure at the tank bottom during filtering.
Main features of the 3000l brew kettle
The indoor condenser can use atomizing nozzle or tubular heat exchanger for condensation; Configurable heat energy recovery and utilization device.

Outer door steam exhaust device can be option.

Direct fire heating, electric tubes heating and steam heating are optional.

Inner steam heater can be option.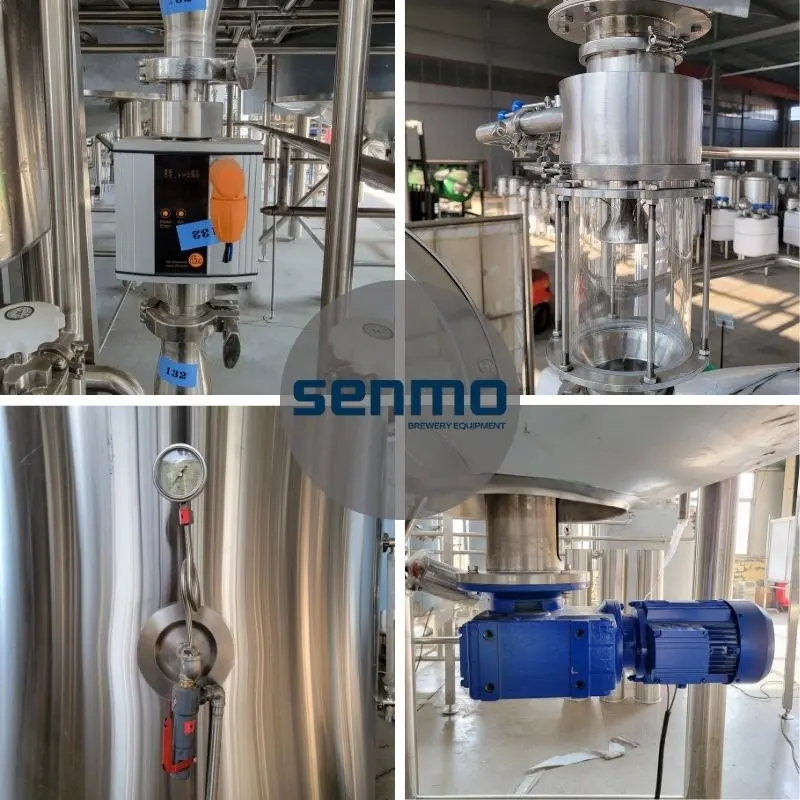 Hot water flowmeter+Hydrator+Steam safety valve+Motor agitation reducer
Main features of the 3000l whirlpool tun
The tangential inlet provides appropriate centrifugal force to achieve efficient residue separation.

Inclined tank bottom: It is conducive to the collection of hot coagulants and the collection of 100% wort.
Main features of the 6000l hot water tank
The hot water outlet is at the bottom of the pipe wall to prevent vortex generation and sediment extraction.

The top of the side wall is equipped with an overflow port, connecting the stainless steel pipe to the ground, and the top is equipped with a breathing port to prevent the tank from generating negative pressure.
If you want to learn more about the features of the 3000l brewing equipment,please send us inquiry,our sales engineer can send you a detailed proposal.Below is the services which we can provide for you:

Sales consulting. SENMO provide fast, professional and detailed beer brewery equipment configuration list according to customer requirements.

Brewery technical design. According to the concept of customization, put forward design suggestions, integrate customer requirements, issue beer brewing process flow diagrams,micro brewery floor plans,machinery, electrical and other drawings, draw 3D drawing, and provide one-to-one tracking services.

Brewery equipment processing and manufacturing. Strictly implement the requirements of beer equipment design drawings, follow the IOS9001 quality management system, strictly control the quality of all links, and provide tanks test records of plates, welding, polishing, pressure, etc. for filing.

Brewery plant delivery and installation. The professional brewery project construction team conducts on-site installation, commissioning and training to ensure accurate delivery for use and continuous tracking maintenance.