Microbrewery 1000L 10HL steam heated 5-vessel brewing system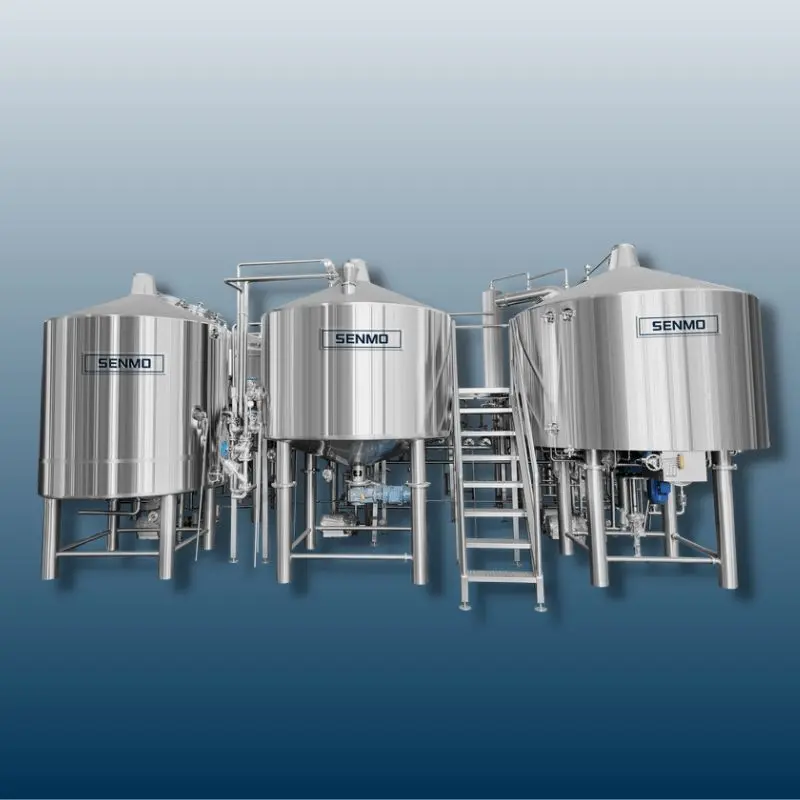 This is 1000L 10HL steam heated 5-vessel brewing system for microbrewery,the whole 1000L brewing system equipped with automatic control cabinet,which can save a lot of labor and energy during the beer brewing.Below is the main equipment list of the 1000L 5-vessel brewing system:
1000L steam heated mash tun

1000L lauter tun

1000L Wort storage tank

1000L Wort boiling tank

1000L Whirlpool tun

Wort pumps

Valves and pipes

Operation platform

Control cabinet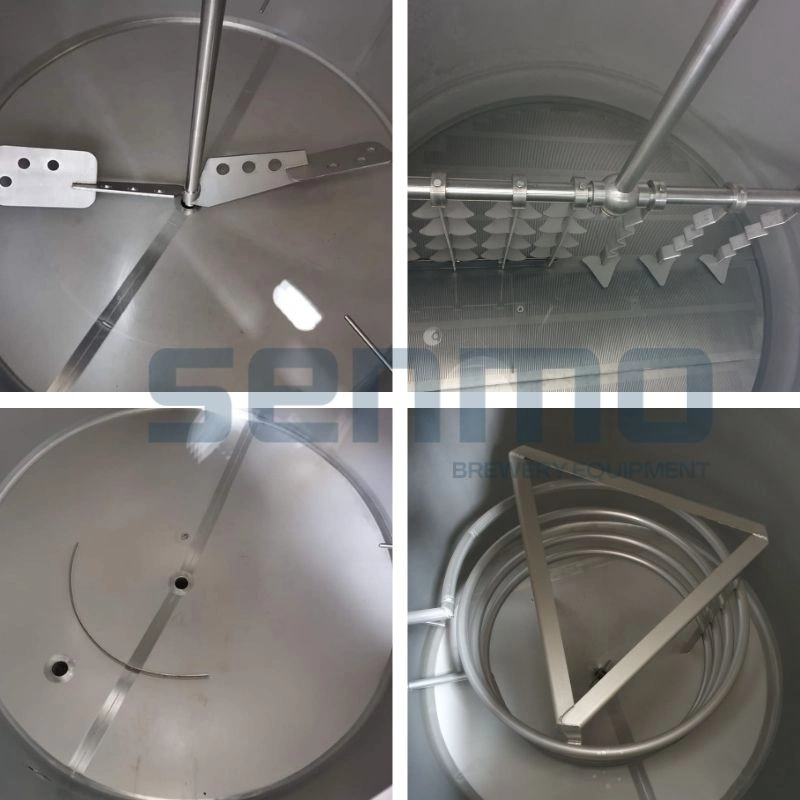 1000L mash tun of the steam heated 5-vessel brewing system
Grist hydrator connected with silo or malt conveying device is installed on the top outside the mash tun, which can fully mix malt and water

Large-sized glass manhole allows easy access to the tank; Reinforced glass can be customized with frosted LOGO; Stainless steel locking handle

The paddle blades of the agitator are long and wide, the outer edge is reverse symmetry, and the convection is strong; Variable frequency speed regulation, automatic speed control; The blade is inclined and perforated, with low shear force and anti-oxygen absorption
1000L lauter tun of the steam heated 5-vessel brewing system
The top of the tank is equipped with a washing device to make the washing water spray more evenly

The plow blade can be adjusted by frequency conversion, equipped with a reducer with high torque and low energy consumption, and with forward and reverse control

Backwashing device is installed at the bottom of sieve plate

Multi-point wort collection design, realizing the formation of a uniform layer of grains and collecting high-yield waste grains

With stainless steel balance column to prevent negative pressure at the tank bottom during filtration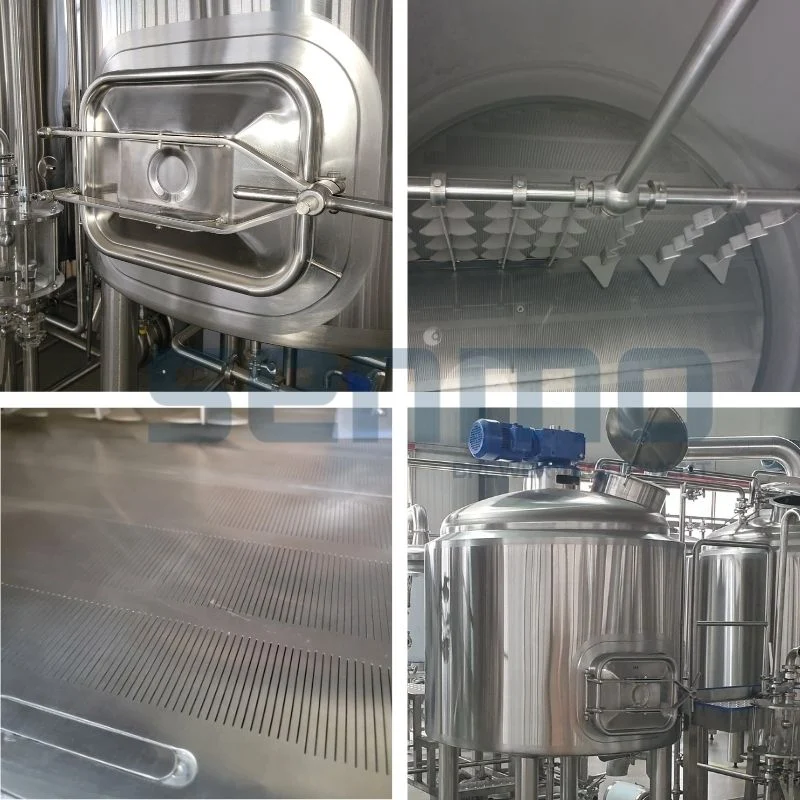 1000L wort storage tank of the steam heated 5-vessel brewing system
Improve the utilization rate of the boiling pot and use it to temporarily store the first wort when the boiling pot is occupied

Thermal insulation through steam jacket

Equipped with steam condenser, it can be used as a boiling tank if necessary
1000L wort boiling tank of the steam heated 5-vessel brewing system
Indoor condenser can use atomizing nozzle or tubular heat exchanger for condensation; Configurable heat recovery and utilization device

Steam jacket heating to increase heating area and realize fast and uniform heating

Equipped with mixing motor and agitator to speed up heating efficiency

External insulation layer to prevent heat loss
1000L whirlpool tank of the steam heated 5-vessel brewing system
The 1000L wort whirlpool tank circulates tangentially, and the high and low liquid level discharge ports are equipped with baffles for hot solidified substances and hops decomposition substances;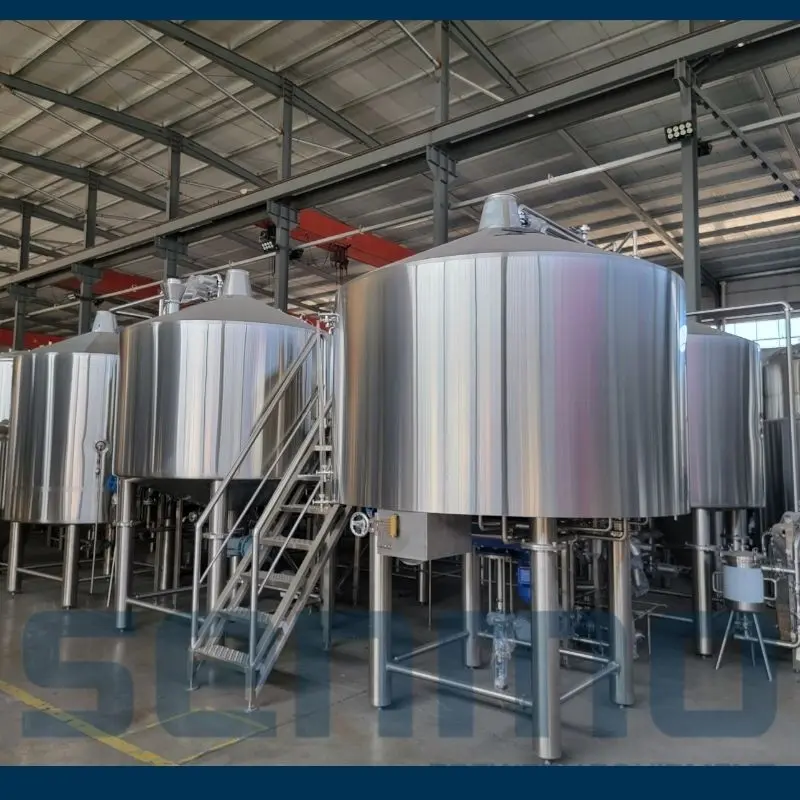 Plate heat exchanger
Full SUS304 stainless steel corrugated plate, thickness: 0.4mm

All plates are numbered for easy disassembly and installation

Completely removable and regularly cleaned

No dead corner in wort circulation to avoid detergent residue

Sanitary EPDM rubber gasket

The wort inlet is equipped with a three-way valve for independent cleaning and reverse cleaning to ensure internal cleanliness
If you are considering entering the brewing beer or craft beer industry,this 1000L steam heated 5-vessel beer brewing system will be a very good option.Whether it is investing in bars,breweries, restaurants, or small and medium-sized breweries, it is necessary to have a clear understanding of the requirements for beer brewing technology and equipment technology configuration. If you have any questions, please communicate with professionals and manufacturers in detail. Shandong SENMO Machinery Co., Ltd., as a professional beer equipment production service provider, provides you with professional technical consultation in the early stage, and carries out equipment design, production, installation, commissioning and other services according to the requirements of beer brewing technology.